New Student – Services and Information
Welcome to the School of Health Professions. Whether you are starting your educational journey, continuing your education, or switching careers, we are here to help. Before you get started there are a few items to complete, including the SHP Orientation and Welcome Session (in-person or online). 
Welcome to SHP!  Each SHP academic program has their own specific orientation which you may have already received information for or will receive information in the future directly from your programs. To get started with SHP's New Student Online Orientation, click on Get Started button, read the welcome message from Dean Mahon, then select your Program from the top. This will produce your requirements list for the orientation as decided by your program. "Other Information" is provided to help you navigate the resources offered at SHP.
There are two current options for the School of Health Professions Welcome Session: in-person and/or online (depending on your admitted semester).  The SHP Welcome Session must be completed prior to your first day of class. 
We are pleased to welcome our incoming 2019 students to our In-Person Welcome Session on July 19. Various presenters will be advising our new
students on the many services available to you as incoming SHP & Rutgers students.
Please RSVP by July 9th at tinyurl.com/y3q5vpa5. Details are below.
Date: July 19th
8:15am – 9:00am. Check-in and Light Continental Breakfast
9:00am Opening Speaker followed by presentations on Student Affairs, Financial Aid, Student Organizations and more!
Location: Rutgers New Jersey Medical School
Address: 185 South Orange Ave., Newark NJ 07103
Room: B552 (first floor)
For students who are unable to attend in-person, we will also be hosting the event online. Please indicate your online attendance when you
RSVP. If you have any questions, then please email osa@shp.rutgers.edu or call 973-972-7939.
The Online Welcome Session is available in Canvas at canvas.rutgers.edu. This module includes several video presentations advising students about the services and resources available to you as an all SHP student.
After you have successfully setup your new Rutgers SHP email account, you may log into your Canvas account.
Self-enroll in the Online Welcome Session here.
Once you are enrolled, complete the course requirements (including watching the videos).  When you are able to view your completion certificate at the end, an email will be sent to Student Affairs confirming you have completed the module and you will be marked as compliant.
Please email osa@shp.rutgers.edu with any questions regarding the training.
All new students are required to complete the following HealthStream compliance training modules before the first day of the semester (please note specific programs may have early deadlines which must be followed):
HIPAA Compliance (Modules 1-3)
Rutgers University General Ethics and Compliance
Training
*** If you are a new admit and have set up your new
Rutgers SHP email account and you are unable to
access the Healthstream training modules according to the
instructions below, you may not yet
been added into the Healthstream training system.
Once you are in the system, you will
receive an email from "HS-Alerts" to your new
Rutgers SHP email address stating you may now
complete the training.
Failure to complete these trainings will lead to a Student Affairs hold being placed on student accounts affecting upcoming registration.
Compliance Training Instructions
1) Log into to the my.rutgers.edu portal
2) Click on "My APPS"
3) Click on "Mandatory Compliance Training"
4) Select "I AM A STUDENT" for the best description of your job function
5) When you log in to the program you must first set up your account by going to "Account Settings" which is found at the bottom- right of the HealthStream page directly under "Sitemap" (the exact location may vary based on your browser, but "Account Settings" will appear somewhere at the bottom of the page). When you go to "Account Settings" scroll to the question marked: "Select the best description of your job function." Click on the drop-down menu and select the appropriate response: "I AM A STUDENT."
6) Next click the green "Save Account Settings" button.
7) After you receive a notice that your settings have been saved successfully, click the "To Do" tab at the top of the page.
On that page you will find the appropriate trainings assigned based on your job function. Please make sure that your pop-up blocker is turned off before you begin the training.
Any questions regarding the HIPAA training module should call the Rutgers Office of Enterprise Risk Management, Ethics, and Compliance @ 973-972- 8093.
All new students are required to complete the SHP Academic Integrity training module before the first day of their first semester (please note specific programs may have earlier deadlines which must be followed).
To self enroll in the Canvas module, please click here.
Please note that once you have completed the course requirements and are able to view your completion certificate, you have completed the module. An email will be sent to the Office of Student Affairs and you will be marked as compliant within one to two business days. Failure to complete these required trainings may lead to a Student Affairs hold being placed on student accounts, affecting upcoming registration.
Please email osa@shp.rutgers.edu  if you you have questions.
At Rutgers University – RBHS School of Health Professions, we pride ourselves on providing an enlightening college experience, which demands a safe and healthy student environment.  To that end, we are requiring that you view Not Anymore, an online interpersonal violence prevention program from Student Success™. This video-based program will provide critical information about Consent, Bystander Intervention, Sexual Assault, Dating and Domestic Violence, Stalking, and much more. Not Anymore will help you better understand how vitally important these issues are and what you can do to help make your campus safer.
Program Instructions
The "Not Anymore" online training module will become available approximately one week after the beginning of your first semester. New students will be sent notification emails to your Rutgers SHP email accounts once the training is available for your admission class. Students are then required to complete the training program two to three weeks after being notified while earning at least 80 percent on the program.
Accessing the Training
Step 1:  Log on to Not Anymore at: https://studentsuccess.org/CODE/rbhs
Step 2:  Enter your access code: RSHP
Step 3: You will be taken to the Not Anymore Account Setup Page.  Follow the instructions provided.   Remember the email and password you enter, as they will allow you to leave and re-enter the program.
If at any time you have general questions or concerns regarding the program requirements, please contact your school's training coordinator, Matthew Marino, at matthew.f.marino@rutgers.edu. If you have any technical difficulties with the program, please contact Student Success™ through the program HELP button or at terrylynn.pearlman@vectorsolutions.com
For the SHP Honor Code, click here.
As espoused in the Faculty/Student Honor Code of SHP, it is essential for all faculty and students to observe high standards of honesty and integrity in all aspects of education, practice and research.
All faculty and students should be familiar with our Honor Code and embrace its principles in theory and practice. Abiding to these standards is the hallmark of a true professional.
Integrity at SHP
We invite all programs to share activities they use to incorporate the Honor Code into the development of their students. Some examples are listed below.
SHP Physician Assistant Class of 2013 "Integrity Pledge Ceremony"
Each year, the PA program's incoming classes participate in group discussions, hold small group sessions and discuss hypothetical scenarios related to academic integrity. When the sessions are concluded, the students all return to a central location where they are asked to sign a blown-up poster version of the PA program honor code.
The signed "poster" and picture are then framed and hung in a prominent location near the student mailboxes where it can be readily seen as a reminder of their pledge to help maintain an environment of strict academic integrity and to uphold the Rutgers/SHP honor code at all times.
…. The Act Of Representing Another's Work, Thoughts And Ideas As Your Own.
Plagiarism may be intentional or unintentional.
Regardless, it is still considered a type of fraud as well as cheating. Citing facts or knowledge that everyone knows is not considered plagiarism. (e.g., "North America is a continent").
Plagiarism is:
Copying and pasting from journals, websites and electronic documents without a citation.
Using the exact words from a document or oral presentation without a citation.
Paraphrasing someone else's thoughts or ideas without a citation.
Using a chart or graph without permission from the author AND a citation.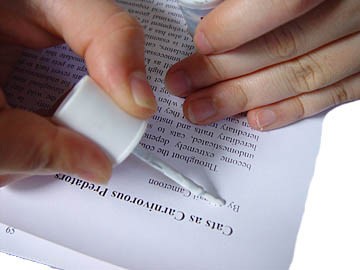 Generally plagiarism can be avoided by simply citing the source of your information, and using quotation marks when you copy text exactly as presented.
Read publication manuals like the Modern Language Association, the Chicago Manual of Style or the American Psychological Association for proper citation methods.
The School of Health Professions has a detailed policy on plagiarism.
For more detailed information and examples on plagiarism, follow the links below.
See below helpful information regarding utilizing TurnItIn as an instructor.
Instructor Videos (see bottom of page after clicking)
* Getting Started
* Setting Up and Submitting Assignments
* Evaluating Originality Reports
* Providing Feedback and Grading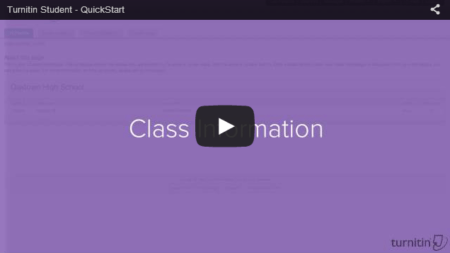 Instructor QuikStart Guide Web page (click on image to navigate to web page)


Instructor User Manual PDF (click on image to navigate to web page)