Graduation Information
Join us to celebrate the Class of 2021 at SHP's 44th Commencement on May 19 at 10:30am EST.
VIRTUAL CONVOCATION CEREMONY: SHP will host a virtual convocation ceremony on May 19, 2021 at 10:30am that will be interactive for our graduates.
RUTGERS SCHOOL OF HEALTH PROFESSIONS VIRTUAL PHOTOBOOTH
Virtually place yourself on campus by uploading a photo and then choose from a selection of School of Health Professions backgrounds!  Create your photos now by clicking on the following link – https://www.virtual-photos.com/lp/school-of-health-professions/
CONGRATULATORY PACKAGE: Island Photography is now offering Virtual Graduate photos to commemorate your milestone achievement. Graduates may upload up to 3 photos. Island Photography will then provide each graduate with various vivid professional proofs to choose from whether selecting to purchase photos, downloads or other digital products. Click Here to get started – https://vp.islandphoto.com/rutgersushp/Register
Rutgers SHP 2021 Island Photo Flyer
SHP REGALIA ORDERS: For those graduates looking to purchase regalia for the upcoming virtual 2021 SHP/Rutgers graduation ceremonies, please visit the Rutgers Barnes and Noble Bookstore's RBHS regalia website @ https://rutgersprofessional.shopoakhalli.com/  . All orders will be shipped to home with an expected shipping window of 3 weeks. Please note the deadline to order regalia is April 16th. For questions regarding regalia, please call 1-800/456-7623 or email webdept@oakhalli.com
SHP CONVOCATION INVITATION: Download your commemorative Convocation Invitation to share with family and friends. Virtual Convocation Invitation 2021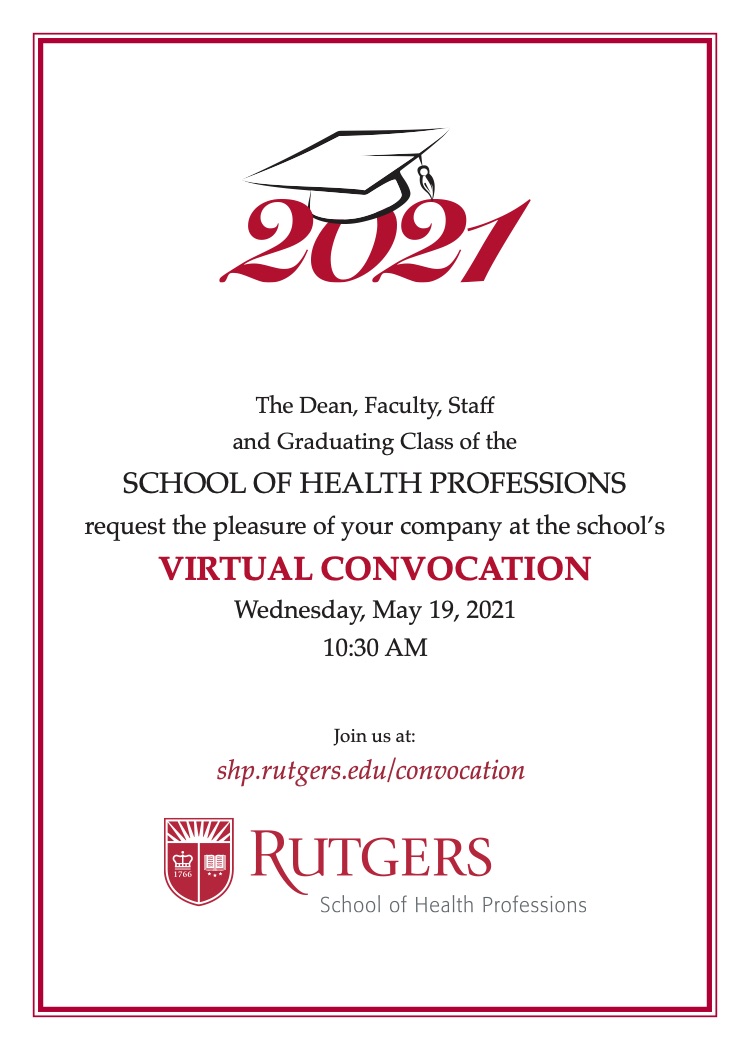 A message from the Dean:
Congratulations on your upcoming graduation! Resiliency is clearly a strong trait of the Class of 2021. By reaching your graduation milestone, you have proven to us, your family, friends, and colleagues, not to mention yourselves, that you can achieve your goals through any unforeseen obstacle if you put your mind to it. We are so proud of you!
Although our Convocation celebrations will be virtual this year as communicated by President Holloway earlier this month, our goal is to make it a spectacular occasion for you to be celebrated. We hope that you will join us on May 19, 2021 at 10:30am for a ceremony to mark your transition from student to alumnus of the Rutgers School of Health Professions. More information will be communicated in the coming weeks, but I wanted to be the first to congratulate you on your graduation and get you excited about our 44th Convocation!
Each year SHP puts out a call for Student Speaker and Student Singer to represent the graduating class. More information on submission requirements and deadlines can be found here.
Again, congratulations and we look forward to celebrating you on May 19, 2021.
Sincerely,
Gwendolyn Mahon, M.Sc., Ph.D.
Dean, School of Health Professions
View the celebration of our Graduates of the Class of 2020! The School of Health Professions hosted a virtual Convocation Ceremony on May 22, 2020 at 11am. To watch the ceremony, go to shp.rutgers.edu/convocation.
More information is forthcoming. Please check back for updates!
Degrees are conferred three times a year:
January (Finishing requirements in Fall semester of the prior year)
May (Finishing requirements in Spring semester of the same year)
August (Finishing requirements in Summer semester of the same year)
(Some joint students may follow their affiliate's graduation dates)
To recognize your academic achievements, SHP graduates will be invited to two graduation events held only once a year in May – Rutgers University Commencement at SHI Stadium in Piscataway, and the School of Health Professions Convocation at the New Jersey Performing Arts Center in Newark, NJ. For more information regarding University Commencement, please go to commencement.rutgers.edu.
All degree requirements must be met before the date the degree is conferred. This includes:
Resolution of incomplete/in progress grades (I, IP)
Grade change (Grades will not be changed after the degree is conferred)
Submission of major projects, thesis or comprehensive exams.
Applying for Graduation
All SHP students apply for graduation utilizing the online graduation application in the my.rutgers.edu portal (see instructions below).
HOW TO APPLY
· Login to your MyRutgers portal: https://my.rutgers.edu/
· Select the Banner Self-Service tab
· On the left-hand side, press "Student Records" from the drop-down menu.
· Click on "Account Summary by Term" and login(if prompted)
· Then select Student Enrollment Services at the top.
· Click Apply to Graduate at the bottom of the list.
January Graduation
November 1
May Graduation
February 15
August Graduation
Early Application March 1

Regular Application July 1
August 2021 graduates who wish to participate in Commencement and/or Convocation MUST apply early.
*August graduates who wish to participate in Commencement and/or Convocation MUST apply early.
Certificates and Diplomas will only be released to graduates after confirming that all degree requirements have been met and any encumbrances have been cleared. Examples of these holds include: account balance, financial aid, library or student loans.
Diplomas may be picked-up at our Enrollment Management Welcome Center, located at the Health Sciences-Newark campus.
Certificates and diplomas can be mailed (free of charge) by submitting a Certificate/Diploma Release Form.