MS Health Care Management
Our Healthcare Administration Degree is Offered Online
Apply by Aug. 15 for a fall start.
We are proud to share that we have just been named a top online health care management program by the health education website, EduMed.org. Learn more. 
Health professionals can advance in their careers and enhance the value they bring to their current organization with our Master of Science in Health Care Management (MSHM). This fully online program builds upon the experiences of current health professionals by strengthening competencies in management, leadership, strategic planning, finance, quality assurance, informatics, legal compliance and ethics. The program is offered part-time, allowing students to work full-time while pursuing an advanced degree. We offer three specialized tracks: Management and Leadership, Psychiatric Rehabilitation, and Health Care Informatics.
According to the U.S Bureau of Labor Statistics, the need for medical health service managers is expected to grow 17 percent through 2024. An advanced degree will enable graduates to accelerate their careers in one of today's fastest-growing occupational fields.
The Healthcare Management Master's program offers three specialized tracks:
The Healthcare Informatics Track is offered jointly with the Department of Health Informatics.  Courses in this track cover the methodologies behind health informatics applications, introduce biomedical data analysis, and provide an overview of the concepts, techniques and software used in clinical decision-making. After completing the master's program, students have the option to continue on to earn a graduate certificate. Credits earned during the master's program can be applied to the certificate. Learn more about the Healthcare Informatics graduate certificate.
The Management and Leadership track is designed for wide range of health professionals.  This track is especially suited for current or aspiring healthcare supervisors and managers who are seeking to broaden and deepen their management and administrative skill-set.  The track offers an ideal blend of structure and flexibility, combining foundational course requirements related to management, leadership, finance and strategic planning, as well as an extensive choice of track courses and electives.
The Behavioral Health track is for managers and

 

supervisors in the mental healthcare service

 

system. They gain the knowledge and technological

 

skills to ensure resources are managed

 

effectively, and program and patient outcomes are

 

achieved. Experienced faculty guide students

 

through coursework on management, leadership,

 

finance, strategic planning and evidence based &

 

promising practices in Behavioral Health.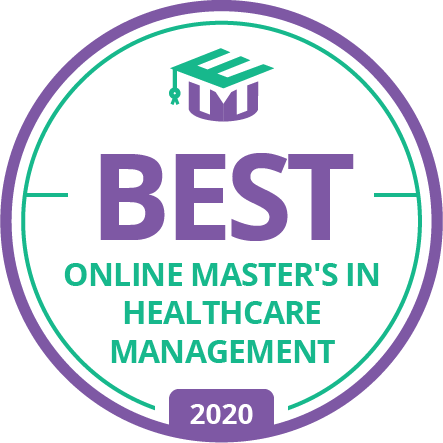 Do you have questions about our program? Would you like to connect with us to discuss your fit with our school? You can schedule a conversation with the program director or request more information.
The program is unique in offering:
Three specialized tracks:
Management and Leadership
Biomedical Informatics (in cooperation with the School of Health Professions Department of Health Informatics)
Behavioral Health
Convenience of entirely online course offerings
Potential to matriculate into a doctoral degree program
A highly structured capstone, graduate project
Growing network of successful alumni
Outstanding program faculty with extensive experience working in large healthcare organizations
Enrollment in a university ranked #1 nationally by College Factual in best colleges for health professions.
Learning Outcomes for all tracks are aligned with the School of Health Professions Outcomes and include outcomes related to major competencies for health care management. Learners will be able to:
optimize overall quality outcomes in health care;
achieve professional competencies as currently defined by health care organizations and professional associations, including: strategic planning, health care finance, management and leadership, legal and ethical considerations, as well as other similar competencies;
effectively communicate in oral, written, and technical formats;
communicate and collaborate with health care team members and other stakeholders to attain a common goal
and effectively access, store, evaluate and apply scientific, health care and patient/client information, while respecting the ownership and privacy of sources, to help solve real-world challenges of health care organizations.
According to the U.S Bureau of Labor Statistics,  the need for medical health service managers is expected to grow 17 percent through 2024. An aging population means a higher demand for skilled managers in settings such as hospitals, physician's offices, nursing homes, residential care facilities, home health care, outpatient facilities, the insurance industry, and community healthcare agencies.  An advanced degree will enable graduates to accelerate their careers in one of today's fastest-growing occupational fields.
Join us at our Virtual Open House on November 16, at 7:30 pm
Application deadline for Fall is Aug. 15.
Minimum of a bachelor of science degree with an overall GPA of 3.0 or greater
A minimum of two to three years full-time experience working in the healthcare industry
Two letters of recommendation using the Recommender Form
Structured personal statement
Official transcripts from all academic institutions attended
Resume/CV
Completed application
Payment of application fee
Applications are accepted on an ongoing basis for the fall, spring and summer semesters.  The deadline to apply for the fall semester is Aug. 15; spring semester is Nov. 15; and summer is April 15.  Individuals may take up to 12 credits in the program as non-matriculants prior to application to the program.