B.S. in Health Information Management
Our online health information management programs will prepare you for the business side of healthcare. You'll learn informatics, quality assurance, compliance, medical coding, and management. Upon graduating, you will be eligible to sit for the national credentialing examination to become a Registered Health Information Administrator (RHIA). Credentialed graduates hold positions in data management, finance, compliance, health record management, and other areas.
Our students are annually honored with scholarships from both the American Health Information Management Association and the state association in New Jersey.  Within six months of graduation, more than 90% of graduates are employed in Health Information Management-related positions.
Students can obtain a:
B.S. solo degree or B.S. joint degree with affiliated college
Post Baccalaureate Certificate in Health Information Management
Certificate in medical coding
Questions? Please contact us at HIM@shp.rutgers.edu.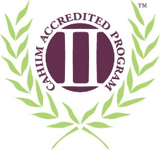 Our online programs may be completed on a full-time or part-time basis. Our students apply after having completed general education courses at other institutions, or one of our affiliate colleges or universities.
 Fast Facts About Our Health Information Management programs:
Nationally ranked as one of the top online HIM programs
Specialization in medical coding, health care informatics, information governance and health care leadership
Graduates are prepared for over 75 careers intersecting medicine, science, business and information technology
Fully online program offered full-time and part-time
Experienced faculty provide support and mentoring
The most recent student data from the 2017-18 academic year indicates many program successes including:
98% graduation rate
99% retention rate
100% successful job placement within 1 year of graduation
Rutgers is the #1 college nationally for the study of health professions in 2018 according to College Factual.
 We are accredited by the Commission on Accreditation of health Informatics and Information Management CAHIIM.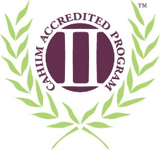 The program is based on the competencies required by the American Health Information Association (AHIMA) which can be found on the website of our accrediting agency, the Commission on Accreditation of Health Informatics and Information Management CAHIIM): http://www.cahiim.org/him/curriculumrequirements.html  
Demand is on the rise in this field, due to an aging population and an increase in the number of insured people. According to the Bureau of Labor Statistics, employment of health information technicians is projected to grow 17 percent from 2014 to 2024, much faster than the average for all occupations.
As our curriculum incorporates medicine, management, finance, information technology, and law throughout the program, graduates can choose from a wide variety of workplace settings. More than 95 percent of our graduates find jobs in their field within six months of obtaining their degree. Places that hire health information professionals include hospitals, rehab centers, private health  care practices, software companies, pharmaceutical companies, healthcare associations, insurance companies, and research laboratories. Job title of past graduates include HIM director, coding specialist, clinical documentation specialist, compliance officer, privacy officer, director of IT applications, and EHR implementation specialist. 
Questions? Please contact us at HIM@shp.rutgers.edu.
Requirements for all health information management degree and certificate programs:
July 31 deadline for Fall Admissions. Apply now for the Bachelor or Health Information Management.
An overall minimum grade point average of 2.75 on a 4.0 scale is required.
A grade point average of 2.75 on a 4.0 scale for all courses identified as core prerequisites including the following:  English Composition, Anatomy & Physiology, Computer Science requirement, Principles of Management/Business Management.
Submission of essay stating why applicant has selected HIM as a program and/or profession.
Submission of official transcripts* of all previous college courses as well as an updated transcript from the affiliate institution, if applicable.
Submission of documentation indicating courses in progress and/or to be completed prior to enrollment**
*Students who have attended a foreign college or university are required to submit an official English Translation of the academic credits from the World Education Service as well as an official transcript from their college.
Questions?
Please contact us at HIM@shp.rutgers.edu.