Scholarship Recipients
Congratulations 2019-2020 Scholarship Awardees
Why We give Scholarships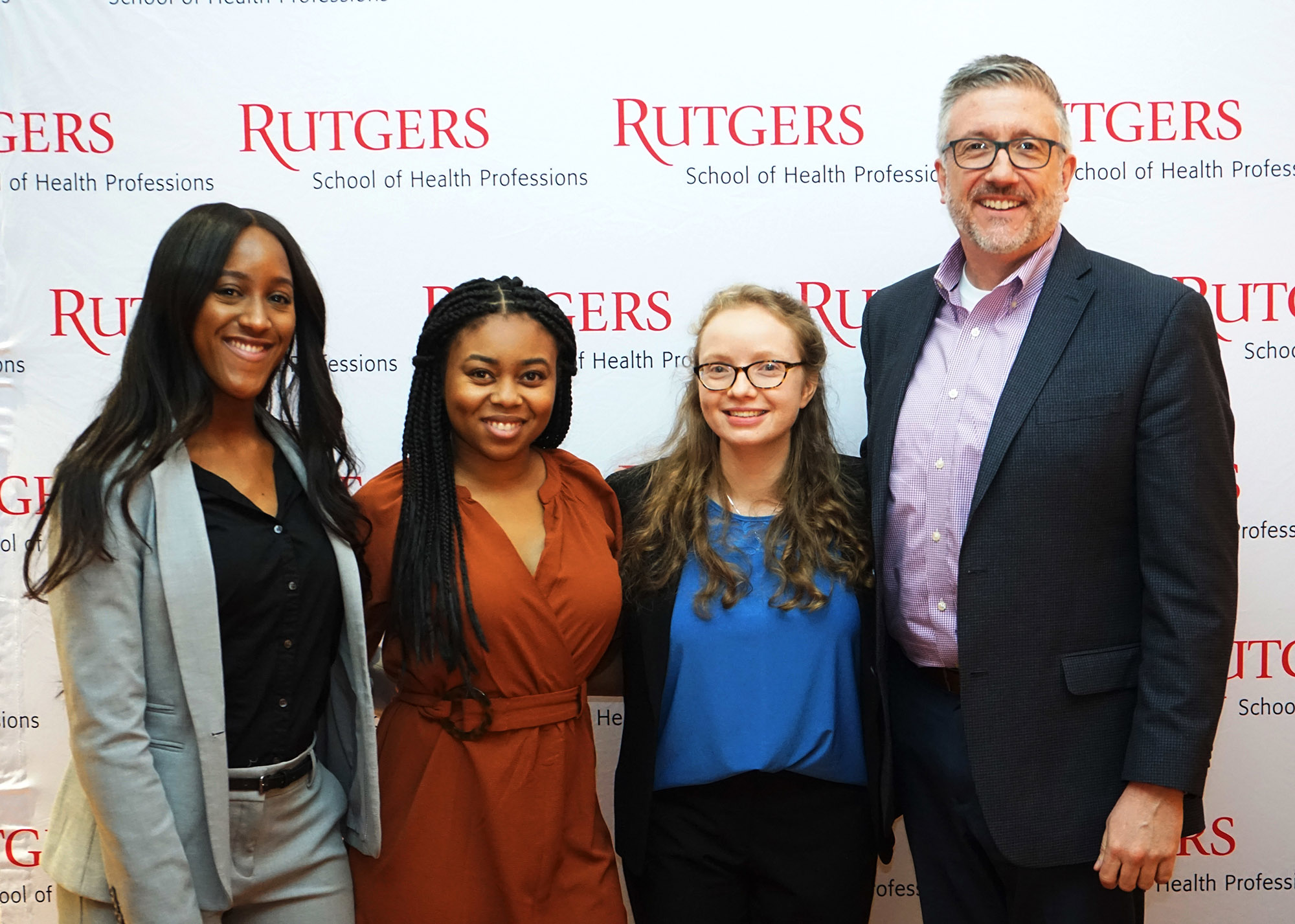 Rutgers School of Health Professions is committed to ensuring that all students have the opportunity to pursue their ambitions and dreams. Although SHP offers competitive tuition prices and a wide range of financial assistance and scholarships, some students still need to cover gaps when paying for their education. This can result in added stress, the need to work multiple jobs, and challenges in the classroom.
We want all of our students to be able to give 110 percent to their studies, and scholarship support allows that to happen. That support lets students focus on what will move them toward future success.
Your contributions make scholarship assistance possible. You can give here.
SHP Scholarship Recipients
Catherine & Kenneth T. Gill Scholarship
Stephanie Santos
Kimberly Sunchuk
Ellen M. Taylor
Champions Scholarship
Alex Osby
Estate of Edith T. Richards Scholarship
Zahrya Clayton
Dr. Joseph A. Schwenkler Scholarship
Lisangi Fernandez
Shama Safdar
Nutritional Sciences Department Part-Time Scholarship
Olya Cuellar
Jessica Lowe
SHP Alumni Association Military/Veteran Appreciation Scholarship
Tany Martin-Mercado
SHP Endowed Scholarship
Mercedes Aguirre
Marissa Bunnewith
Zahrya Clayton
Jasmine Flowers
Meaghan E. Hart
Marianne Ingersoll
Katerina Nickel
Alexander Olan
Susan Stromberg
SHP Scholarship Fund
Madison Troxler
Stanley S. Bergen Endowed Scholarship
Amira Drake
Student Assistant Endowment Fund
Amira Drake
W. Paul Stillman Scholarship
Brian Broadbent
Eliza Firestone
Tania Martin-Mercado
Johanies Melendez
Brianna Walsh
Sylvia Zabielski
Wells Fargo Scholarship
Susan Stromberg
Judith Yannariello Scholarship
Jackelyne Diaz

65 Bergen Street, Suite 120, Newark, NJ 07107-1709

Admissions: 973-972-5454 Dean's office: 973-972-4276 FAX: 973-972-7028
Copyright ©2017, Rutgers, The State University of New Jersey, an equal opportunity, affirmative action institution. All rights reserved.