Student Life
Student Affairs at Rutgers School of Health Professions encourage students to take advantage of opportunities offered to learn, lead, and serve. By being an involved student, you add value to your personal and professional development.
Some ways to be involved at Rutgers SHP include:
 Becoming an active member of our Student Government Association
Joining or starting your own organization or club
 Attending student success workshops and gain critical organization and assessment skills
Hands-on learning and exposure to different professions does not only happen in the classroom. Our students volunteer in the community, while learning in a safe, motivating environment.
They have:
Volunteered at the NJ Special Olympics
Hosted informational tables at Rutgers Day
Engaged in other volunteer and social justice initiatives across the state
Joined professional associations and presented at regional and national meetings
Rutgers School of Health Professions Student Government Association (SGA) offers students the opportunity to make the most of their college or graduate experience by representing the student body as an advocate and a leader.
Students involved with the SGA will learn important management, communication, and interpersonal skills. Board members will collaborate as a team, providing a forum for School of Health Professions students' interests and concerns.  The SGA is expected to work closely with Student Affairs to address student needs, and help plan important school-wide events.
The SGA provides a path for involved students in initiatives that will enhance interdisciplinary experiences among students, and further the school's mission. Students will have the opportunity to plan community service activities, and participate in trainings to develop leadership and interpersonal communication skills.
Student body = all matriculated students enrolled at the School of Health Professions
Student Government Association (SGA) = Governmental organization to represent the student body. The SGA includes the Executive Board, one representative from each student organization, and at-large representatives.
Qualifications to serve in the SGA as an Executive Board member or At-Large Representative
1. Registered SHP matriculated student in at least their 2nd semester (6 minimum credits); maintaining good academic standing.
2. No student code of conduct reported infractions.
3. Recommendation from an SHP administrator or faculty member
Executive Board (Student Government Officers) officers are elected by a majority vote. All officers must provide service to the college to enhance the life and activities of SHP students. All officers must inform Student Affairs of changes in status of qualifications to stay in office. All officers must participate in student leadership training or other professional development activities provided.
The SGA executive board includes the following:
• President
• Vice President
• Treasurer
• Secretary
Student Government Officer Position Descriptions
President Duties:
1. Plans/presides all SGA meetings, and suggests policies
2. Chairs all meetings, follows the Robert's Rules of Order (http://www.rulesonline.com/)
3. Appoints all standing/special committees and will be an ex-officio member of all of them, ensures there is representation on all committees
4. Represents student body at all college ceremonies/events
5. Votes only in case of a tie
6. Available via email to assist with SGA matters
Vice President Duties:
1. Attends all SGA and executive board meetings
2. Coordinates all committees approved or appointed by the President
3. Acts as Sergeant-at-Arms at all meetings of the SGA
4. Must be knowledgeable of regulations, guidelines, by-laws and Robert's Rules of Order
5. Assumes the powers and duties of the President in his/her absence
Treasurer Duties:
1. Attends all SGA meetings and executive board meetings
2. Keeps an itemized account of ledger receipts and expenditures of the SGA, make available a written report at meetings as needed. Will provide a final report due at the end of each academic year.
3. Examines all SGA bills for proof of validity of payment
4. Maintains financial records at all times
Secretary Duties:
1. Attends all SGA meetings and executive board meetings
2. Keeps a permanent record of all meetings of the SGA or designate someone to do so on their behalf
3. Ensures the availability of the records at all times
4. Will carry on the correspondence pertaining to affairs of the SGA as designated by the president
5. Relays content to Student Affairs for SGA website and communications
Organization Representatives
Each authorized and active student organization must select one member to represent that organization at the SGA meetings as an officer of the organization, and liaison between the SGA and the organization. This person will attend SGA meetings and present reports to the SGA from their organization as requested.
Student Government-At-Large Representatives Students who are not executive officers, and not serving as an SGA student organization representative, who desire to serve on the SGA may serve as representatives-at-large, upon the approval of the Assistant Dean of Student Affairs and the majority vote of the elected SGA members.
Ready to get involved? Apply now to be a member of SGA!
A unique opportunity is currently available to SHP students. Now is the time to create clubs, organizations and societies that will enhance the Rutgers SHP experience. To do this, become a Student Government Association At-Large Representative. Complete the following application to nominate yourself!  Visit the links below to get started.
The SGA nomination period and election for all executive board positions is going on now!
To nominate yourself you must meet the SGA requirements (outlined in members descriptions), complete a nomination form, and have an SHP administrator or faculty member complete a recommendation form on your behalf. All nomination forms go directly to the SHP Office of Student Affairs for review.
2018-2019 SGA President
Mercedes Aguirre
Doctor of Physical Therapy (Newark)

2018-2019 SGA Vice President
Jamie Bailey
Doctor of Physical Therapy (Blackwood)
2018-2019 SGA Secretary
Titilope Bamigbola
Healthcare Informatics

2018-2019 Treasurer
Elizabeth Colonna
Doctor of Physical Therapy (Newark)

2018-2019 SGA Social Media Chair
David Lin
Doctor of Physical Therapy (Blackwood)

2018-2019 SGA Fundraising Chair
Marc DeLellis
Doctor of Physical Therapy (Blackwood)
If you would like to create your own student organization, then please review the SHP-Rutgers New Student Organization Guide.
After reviewing the guide, you may begin the New Student Organization Application.
Student Organization Event Management
Student Organization Budget Requests
If you have any questions about Student Organizations or if you would like to get involved with the SHP Student Government Association, please contact them at SHPSGA@shp.rutgers.edu.
Please visit our Student Organization page often! We will be adding information about our current Student Organizations as soon as applications are completed!
SHP Student Organizations Directory
Summaries and contact information student organizations will be posted as organizations are approved.
Are you an SHP Student/Student Group looking to hold a student fundraiser? If so, please complete our online "Fundraising Event Request" form. The completed form will be sent to the Office of Student Affairs who will be in contact with you regarding your event. Please contact the Office of Student Affairs with any questions @ osa@shp.rutgers.edu
Apply to hold a fundraiser.
Student Fundraisers
Get involved and make difference by supporting student organization funding events.
Please check back for fundraising events. 
A reminder of the general HIPAA guidelines when communicating with the public during fundraisers – Click
here
to view the guidelines.
Chase Stopyra
SHP Student Representative to Rutgers University Senate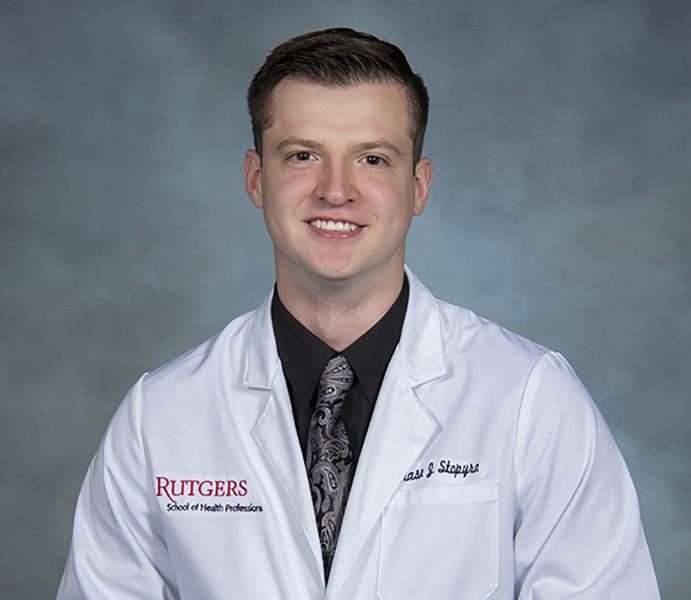 Meet Chase Stopyra, the Rutgers SHP student representative to the Rutgers University Senate, an advisory body to President Barchi.
Second-year student in the DPT-South program

 

Sought the position so he can provide a voice within Rutgers for fellow students and classmates
Wants to know what student are thinking, so email him at cjs367@shp.rutgers.edu

Named Pitcher of the Year in his conference while playing baseball at Gettysburg College

Worked as a student athletic trainer while in college to gain experience in rehabilitation