Promoting Good Mental Health in NJ Schools 
School superintendents, mental health experts gather at Rutgers to improve services
New Jersey educators and nationally known mental health practitioners and leaders came together at Rutgers this summer in a summit to address mental health issues among the K-12 school population.
It was the first major conference held by the Mental Health Technology Transfer Center (MHTTC), which was established through a federal grant awarded to Rutgers School of Health Professions' Department of Psychiatric Rehabilitation and Counseling Professions to better train mental health providers in the Northeast U.S. and the Caribbean.
Since it began operating last year, the center has held 21 training events for over 1,150 participants on mental health topics. Ten of those trainings were on school mental health, a targeted area of focus.  Other topics have included motivational interviewing, illness management and recovery, suicide prevention, and services for the LGBTQ community.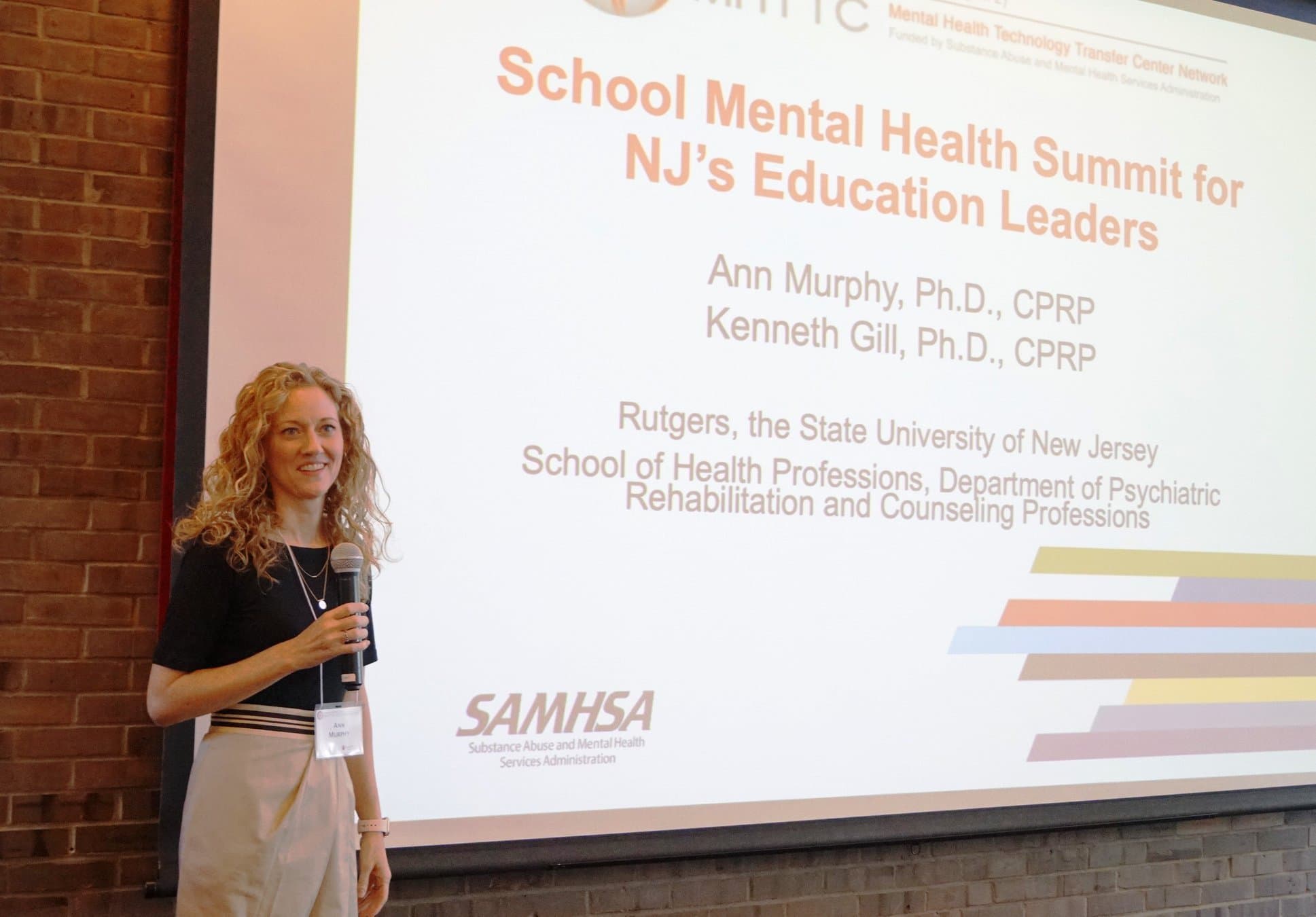 "There is a recognition that schools are on the front lines of addressing mental health concerns and they are vital in identifying and supporting students with these conditions," said Ann Murphy, co-director of the MHTTC, and an associate professor in the Department of Rehabilitation and Counseling Professions.
According to the federal commission on school's safety, approximately one in ten children experience a serious mental health disturbance, and only 20% of those get the help they need.
At the summit, speaker Dr. Sharon Hoover, psychologist and professor in child and adolescent psychology at the University of Maryland, said that mental health in schools can't be addressed simply by a counselor or social worker at the school.
She advocated for a team-based approach that included input from community partners, school faculty and support staff, parents and students.
New Jersey School Boards Association Executive Director Vincent DeLucia, who also spoke at the event, said the focus on academics over school climate has gotten "out of whack."
"High expectations and practices that consider the whole child are not mutually exclusive," he said. "If we don't start paying attention to what is happening, and start working with community groups and spiritual groups, we're going to lose a whole generation."
Experts walked educators through a blueprint for assessing the needs of the school population, providing screening and treatment, and finding funding to sustain mental health initiatives.
One superintendent said his district was overwhelmed in the past year by the number of students with behavioral and mental health issues. With his principal at his side, he sat at a table with pen and paper and began building his community mental health team.
"Our work is beginning to make an impact," Dr. Murphy said.