Transforming Lives Through Community Service
At Rutgers SHP, our students are treating underserved patients in areas where health care is unaffordable or inaccessible. Locally or across the globe, they're making a difference working with vulnerable populations. 
In Newark, where 30 percent of residents live below poverty levels, physical therapy students run a pro-bono clinic. Physician assistant students and faculty volunteer at a medical clinic in Union County serving the uninsured or underinsured. In summer, physical therapy students in Blackwood screen the migrant worker population. On school breaks, students travel to other countries to treat and educate patients who lack access to health care. 
  They are not only helping their communities, they're gaining a better understanding of health care disparities, sparking a desire to bring about bigger change. 
  "My experience has driven home the importance of pro-bono clinics, not just here but across the country.  I came into physical therapy thinking I wanted to work with dancers and high-level athletes, but this has really opened my eyes to the larger scope of physical therapy and the greater impact I can potentially have on a population that truly needs the help," said Kenneth Abes, a first-year Doctorate of Physical Therapy (DPT) student and volunteers in the Newark PT clinic. 
  The Community Participatory Physical Therapy clinic, which accepts anyone who walks in, is in its eight year. In 2018-19, volunteers evaluated 54 new clients and logged 104 patient visits.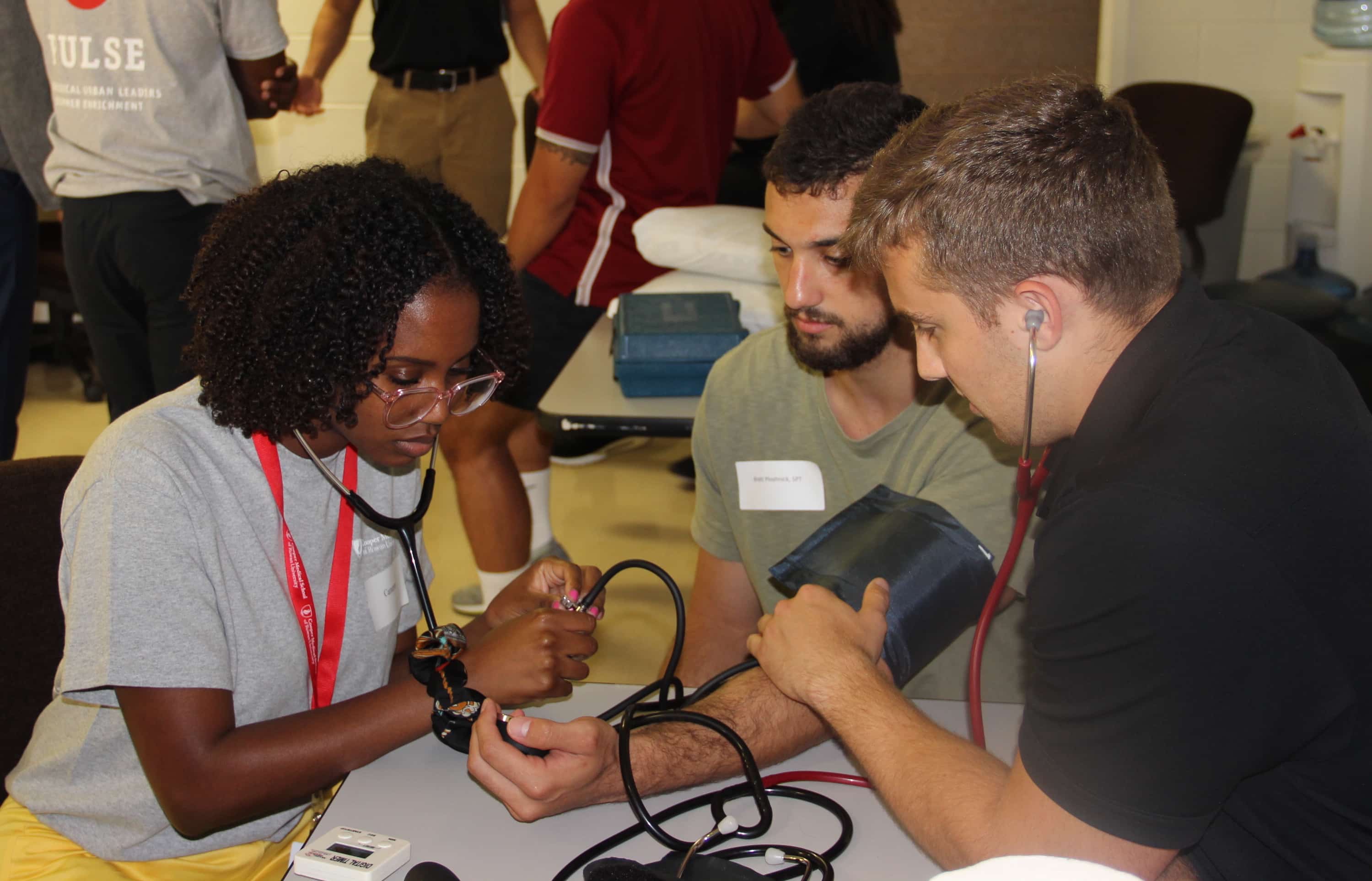 Every summer, DPT students on our Blackwood campus fill a health care gap for migrant workers, whose transient lifestyles are a barrier to health care. In 2018-19, during harvest season, they screened 109 children for developmental milestones and scoliosis, and checked 18 young adults for musculoskeletal and health issues. Through their work with the migrant population, and other community outreach, the DPT students on the Rutgers SHP South campus provided health care services to 383 people in 2018-19. 
 Over 1,000 hours were logged in 2018-19 by students and faculty in our Physician Assistant program who volunteered at a primary care clinic for those without access to affordable care. They also helped plant and harvest a community garden. 
 First year PA student Josh Hilliard said that beyond taking down medical histories and checking vital signs, he learned to establish a sense of trust with an underserved population that can be fearful of seeking out help. 
 "If there's something I can do to reduce somebody's suffering, or put their mind at ease, that makes me happy - and I get a chance to practice medicine. I love everything about it," he said. 
 In 2018-19, SHP students provided health screenings for more than 400 New Jersey Special Olympic athletes, offered guidance on healthy eating to Newark residents, and volunteered at community events such as holiday parties for senior citizens. PT student ran workshops introducing the their field to undergraduate students from disadvantaged backgrounds, with the aim of aimed at diversifying the profession.
 Around the globe, SHP students are serving others. Four students traveled to the Dominican Republic over winter break to treat patients in rural areas.  Clinical nutrition graduate degree student Lauren Kronisch taught physicians and dietitians at a conference in Antigua and Barbuda how diet can be used to treat epilepsy in children. She plans to return to  more fully train medical staff in how to monitor patients who use the diet for seizure management.
 Deven Pfister's experience at the Newark physical therapy clinic helped to define where he wants to practice.  "Our community clinic may be the only opportunity for some of these people to get physical therapy and treatment. I'm looking to work in a location that allows me to give back," said Pfister, who graduates in 2020.