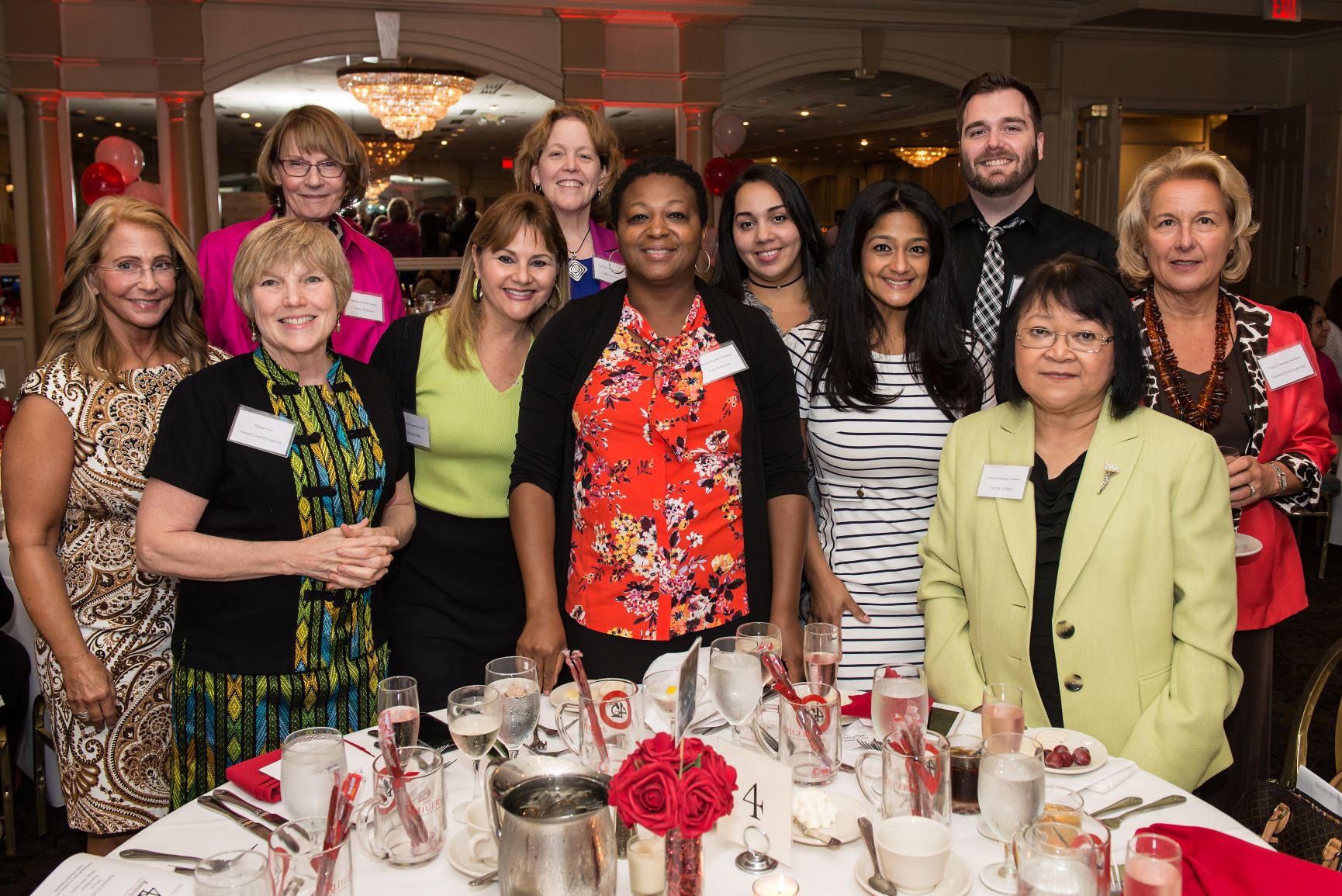 Susan Gould Fogerite, second from from left, with department colleagues 
Longtime Professor, Researcher and Yoga Expert Susan Gould Fogerite Retiring
Known to her students as Dr. GF, Susan Gould Fogerite, PhD, MT(ASCP), CYT has been teaching basic and clinical science in medical and graduate schools for over 30 years, starting at Albany Medical College in the 1980s.
She came to UMDNJ-New Jersey Medical School in 1991, and joined SHP in 2004 as director of research for the Institute for Complementary and Alternative Medicine. She has been an associate professor from 2004 until the present in the Department of Clinical Laboratory Science and Medical Imaging Sciences, and the Physician Assistant program.
She holds over 20 US and international patents, and has published numerous scientific articles and book chapters, and helped organize, chaired, and been an invited speaker at many international scientific meetings. She has served as PI, co-PI, or investigator on multiple NIH, corporate, and privately funded research studies and clinical trials, and is a reviewer for scientific journals and the NIH.
While students and faculty know her as a mentor, lecturer, speaker and author of scientific articles, many also know her as a yoga instructor and enthusiast.
Dr. Gould Fogerite has been practicing yoga for four decades, teaching it for 17 years, and is a certified teacher in the Himalayan Tradition of Yoga Meditation. She has a long history of providing yoga-based programs for students, faculty and staff, and for the community, to support health, wellbeing, and personal growth.
She started teaching open yoga classes in New Jersey Medical School in 2005, moved classes to SHP in the Bergen Building in 2017 and continued until 2020.
Dr. Gould Fogerite is thankful for the opportunity to work with and know the wonderful faculty, staff, students, and administration of SHP, and hopes to stay in touch. In retirement, she intends to do more yoga and mind/body research and offer programs for the public and for groups with special needs. She is also looking forward to spending more time with family and friends, writing, and traveling.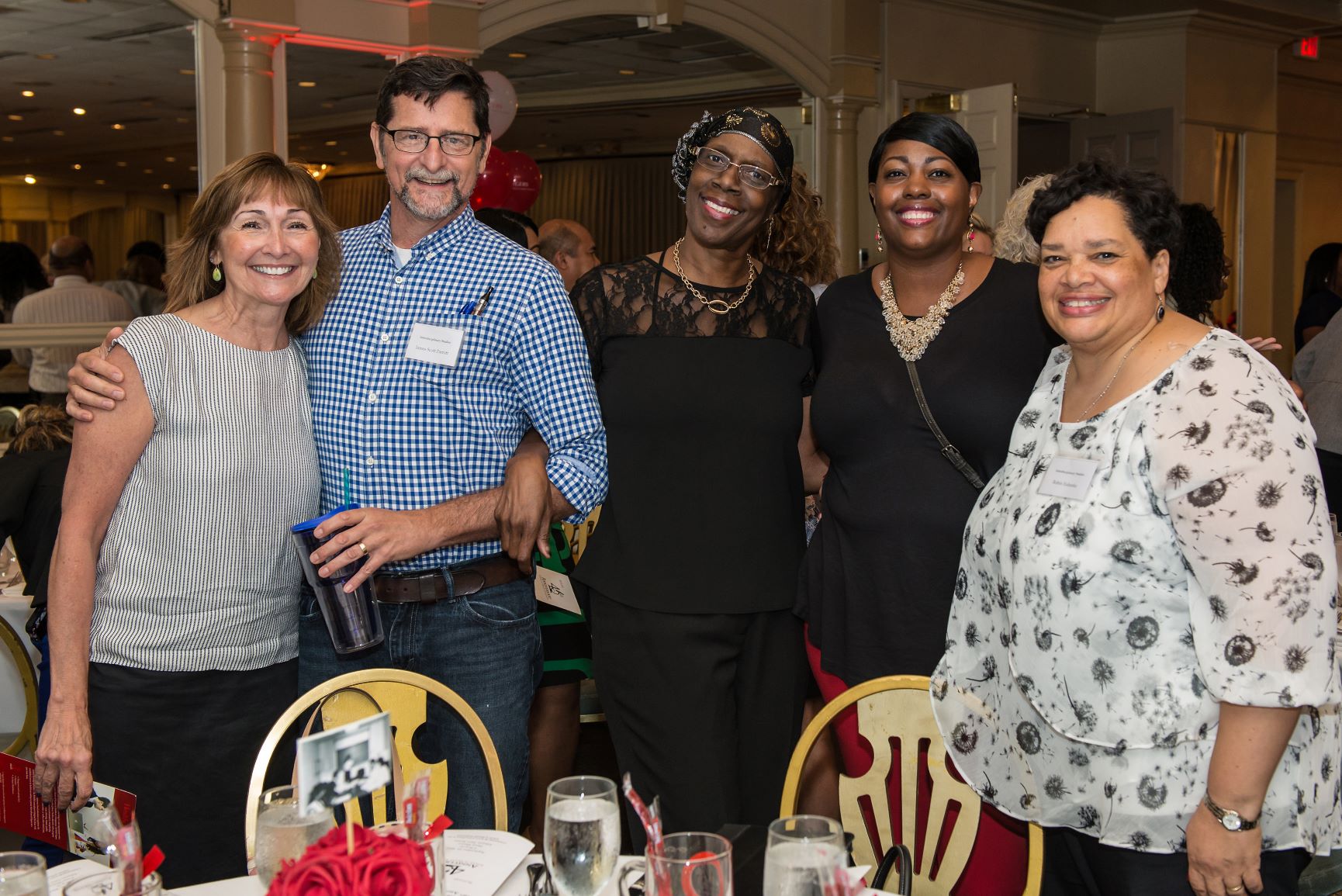 Barbara Herbert, center, with SHP colleagues
Barbara Herbert Retiring After 28 Years at Rutgers
Barbara Herbert, secretary and administrative assistant, is retiring after 28 years. She began her career in the Admitting Department at University Hospital as a secretary, coming to SHP two years later, when she joined the what was then called the Department of Health Science Technologies. At that time, programs in the department included Imaging, Radiography, Surgical Technology and Ultrasound, Nuclear Medicine & Vascular Technology.
She has seen programs close and new ones open, and says she assisted in six moves to different campuses during her tenure. After 19 years, she transferred from the Department of Medical Imaging Sciences on the Scotch Plains campus to Newark and into the Department of Interdisciplinary Studies in 2013.
"I got to work with an awesome group of people for seven years," she said.
She is also known for her beautiful rendition of the National Anthem, which she performed for several years at the SHP convocation ceremonies until 2016, when graduating students took over that role.
She was an active member of the (AAHC) SHP African American Heritage Committee for many years, assisting with program and event planning.
In retirement, the Union resident said, she hopes to relax, travel and explore a small business venture. But first, she said, she'll be helping her 12-year-old grandson with virtual school.