Having Struggled with Mental Illness, Fae Blackman Cushing is Prepared to Help Others 
Text of address given by the student convocation speaker for the Class of 2019, Fae Blackman Cushing, BS Health Science, Psychiatric Rehabilation '19:
Good afternoon graduates, members of the administration, esteemed faculty and staff, invited guests, family, and friends.
I am honored to address the Class of 2019. Today we accomplish this major milestone in our personal lives and embark upon our professional careers as health professionals.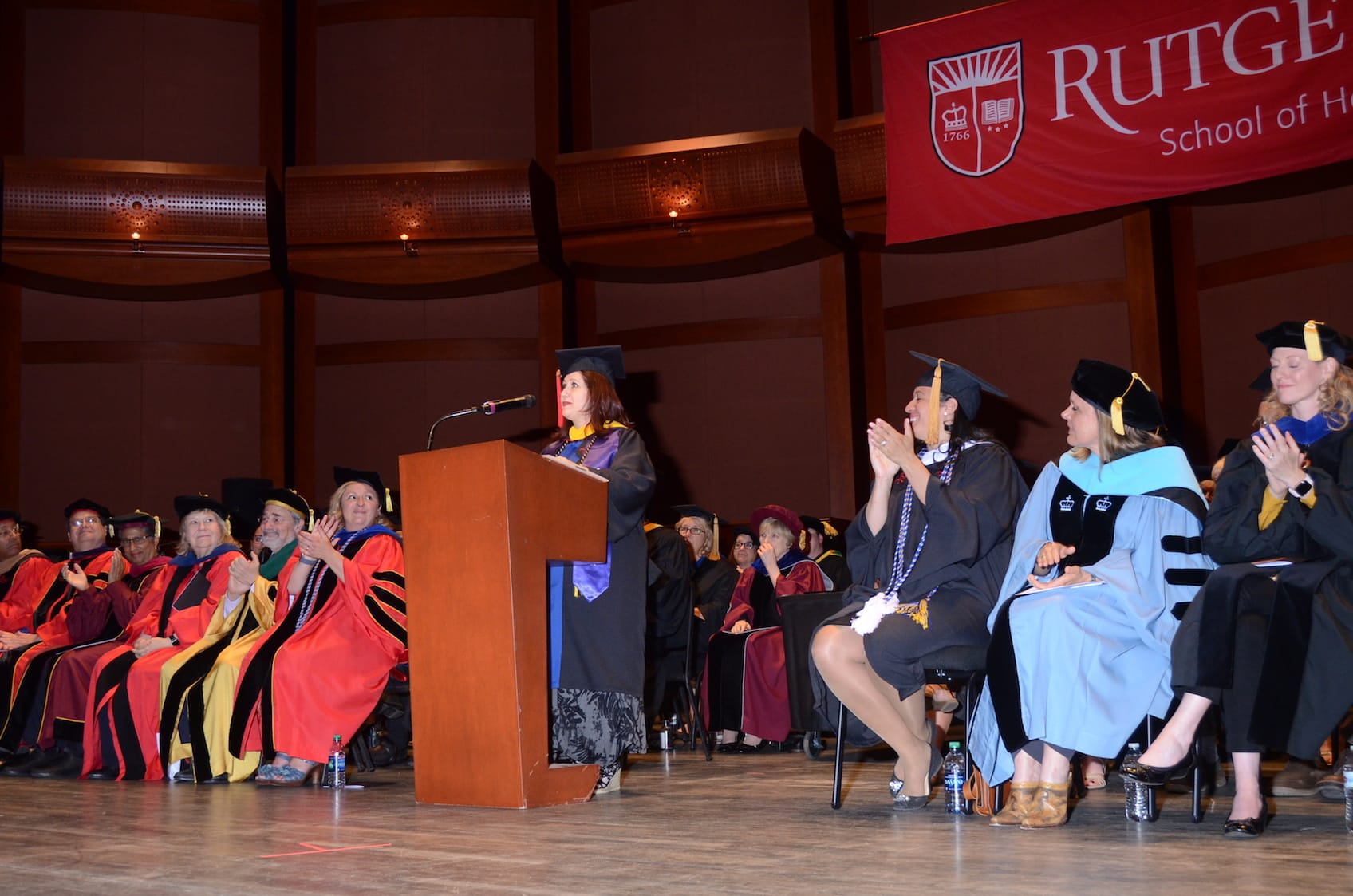 Many of us have hit obstacles in our lives thus far, and many of us have turned those challenges into opportunities
Kahlil Gibran said: "Your living is determined not so much by what life brings to you as by the attitude you bring to life; not so much by what happens to you as by the way your mind looks at what happens."
I am a survivor of abuse: emotional, physical, and sexual. As an adolescent, I became addicted to drugs and alcohol, and found myself in dangerous and abusive relationships. I failed out of college in my freshman year. I struggled through the next few years, and eventually opened my eyes to the many risks I was taking with my life.
I perceived of myself as a victim of my experiences. I saw a psychiatrist, and was diagnosed with major depression, anxiety disorder and post-traumatic stress disorder. I was prescribed an antidepressant medication. On December 11, 1989, the night before I started my meds, I had my last drink.
The next night I went to my first twelve-step meeting. On December 11 of this year, I will celebrate thirty years of staying clean and sober. I get there one day at a time.
My road to recovery has taken more courage and drive than I thought I had. I couldn't get to the point of feeling able to hold down a job, and I struggled to maintain social connections. No medication worked for long.
With the incredible love and support of my husband and children, parents, family and friends, I found the strength to commit myself to an outpatient mental health facility. There, I soaked up tools and skills with which I could battle my mental illness. I found positive reinforcement and support there, and found that other people who battled similar issues were coming to me for counsel and advice.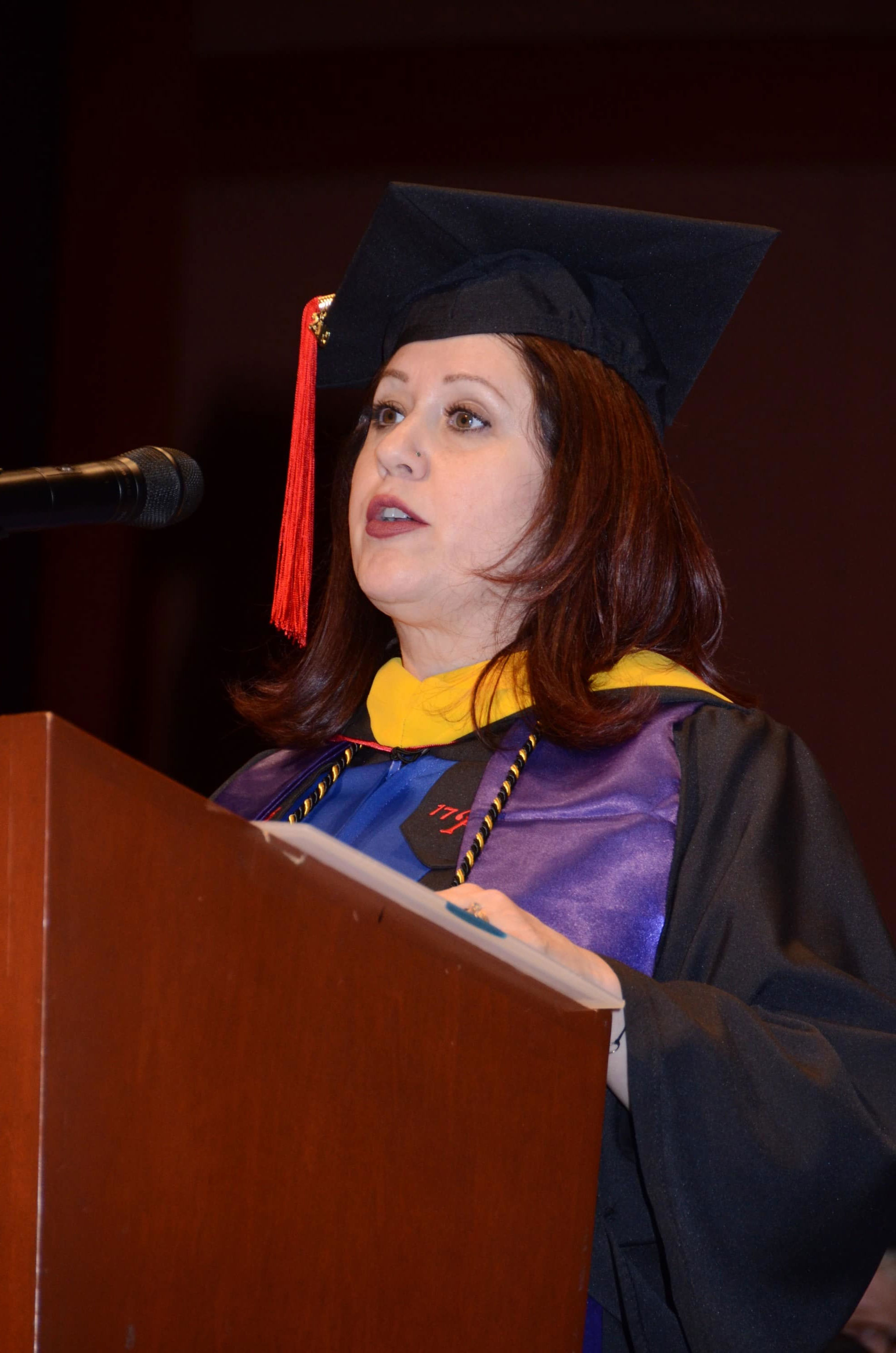 Nearing the end of the program, I began to think about going back to college.
My mother mentioned reading about a program that Rutgers was offering that focused on Psychiatric Rehabilitation and Treatment. A little bell went off in my head, and I thought 'This just sounds right"
I was scared because I had failed so much in the past, but I went to the first class and got an A. Then, I went to the second and got another A. That was my turning point: I began to concentrate on what I could achieve as opposed to how I might fail.
I began to see my negative experience as an impetus to help people, and help myself. My self-esteem and confidence began to slowly build. I kept going, one A at a time. By the time I was placed in my Clinical Practicum site, I felt courageous enough to put myself out there. I found tremendous satisfaction in helping others with mental health issues.
I related on such a deep level with many of the issues that my clients were dealing with and I had learned tools to help them to change their lives. Having the option to disclose my own experiences – carefully and in a limited and case-by-case basis – helped me to fall in love with my profession. Many of my clients shared that I was able to help them because I understood what they were going through. Suddenly, I was not only succeeding, I was excelling. This positive change in perception during my practicum had a resounding effect on my success here at Rutgers.
All of us have within ourselves the courage and passion to look at our negative experiences through a different lens, and turn them into positive influences in our personal and professional lives.
Perhaps you can relate to my experiences in some way. I know that each of you have your own stories, your own struggles, your own achievements.
Recognize your strengths and laud yourself for them. Investigate your weaknesses and how they originated. Put thought into how you can use them to your advantage in your life, and in your career.
Create a motto for yourself, a statement of purpose. Mine is, "Grow, change, and evolve." Being aware of my purpose has bolstered my desire and ability to make a difference in the lives of others.
You have chosen to serve people. You are here celebrating your success in making an enormous step in succeeding in your path.
As friction creates a spark, our challenges have sparked us to find our courage and to discover our passion for healing — and empowering – others. Take those challenges and run with them. Embrace them. For they have helped shape the strong and successful people that we are.