PA Program's Free Clinic Serving the Area's Most Vulnerable Population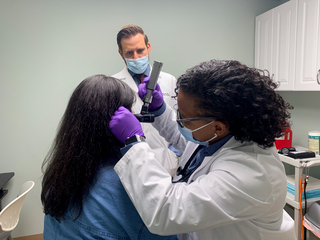 Within six weeks of its reopening, the Health Outreach Practice Experience (HOPE) clinic, operated by the PA program's faculty and students, has seen thirty patients in need of health services. The free clinic, which reopened this summer, aims to increase access to primary care for the state's most vulnerable populations, providing free services each Wednesday to uninsured and underinsured adults aged 18 and over.
For more than a decade, PA faculty and students had partnered with community organizations to operate the HOPE clinic, but for various reasons, these free clinics closed, each time leaving the PA program to find new partners.
This time, when COVID-19 forced the closing of the former Plainfield location, the PA program decided to take on sole responsibility for the clinic, reopening it on July 7, 2021 at its new permanent location at Park Avenue, Plainfield.
"Instead of being a guest at another's clinic, we are establishing our own practice at this site," said Medical Director Elizabeth Di Prospero, MD.
A non-profit organization headed by Nan Daly, a nurse from the former clinic, and her husband Dave Daly, a Rutgers alumnus, has donated medical office space, moving the clinic from being housed in a church to a medical suite, with a reception area and two private patient rooms.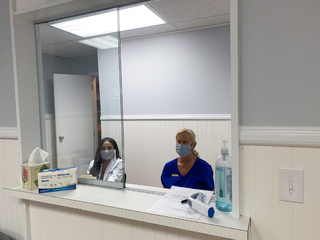 "To raise a clinic from ground up takes a village. We are grateful to the donors who are making this possible and the legal, financial, and administrative staff at Rutgers who have guided us along the way," said Di Prospero.
Faculty oversee and manage the primary care practice that more than 500 patients annually rely on for primary care services.
Beyond ensuring access to health care for those who need it, the practice provides valuable clinical experience for PA students, who volunteer alongside faculty to provide health care services.
"We are developing a program that aligns with the school's message of service, education, and scholarship," states PA faculty clinician and clinic co-director Frank Giannelli, PA-C, PhD.
For more information on services offered and how to book an appointment, visit https://shp.rutgers.edu/physician-assistant/rutgers-healthcare-outreach-practice-experience-clinic-hope-clinic/ .