Class of 2021: Christopher M. Cirnigliaro, Ph.D. Health Sciences, Applied Physiology
With His Newly Minted Ph.D., This Doctoral Graduate is Ready to Advance Research int Spinal Cord Injuries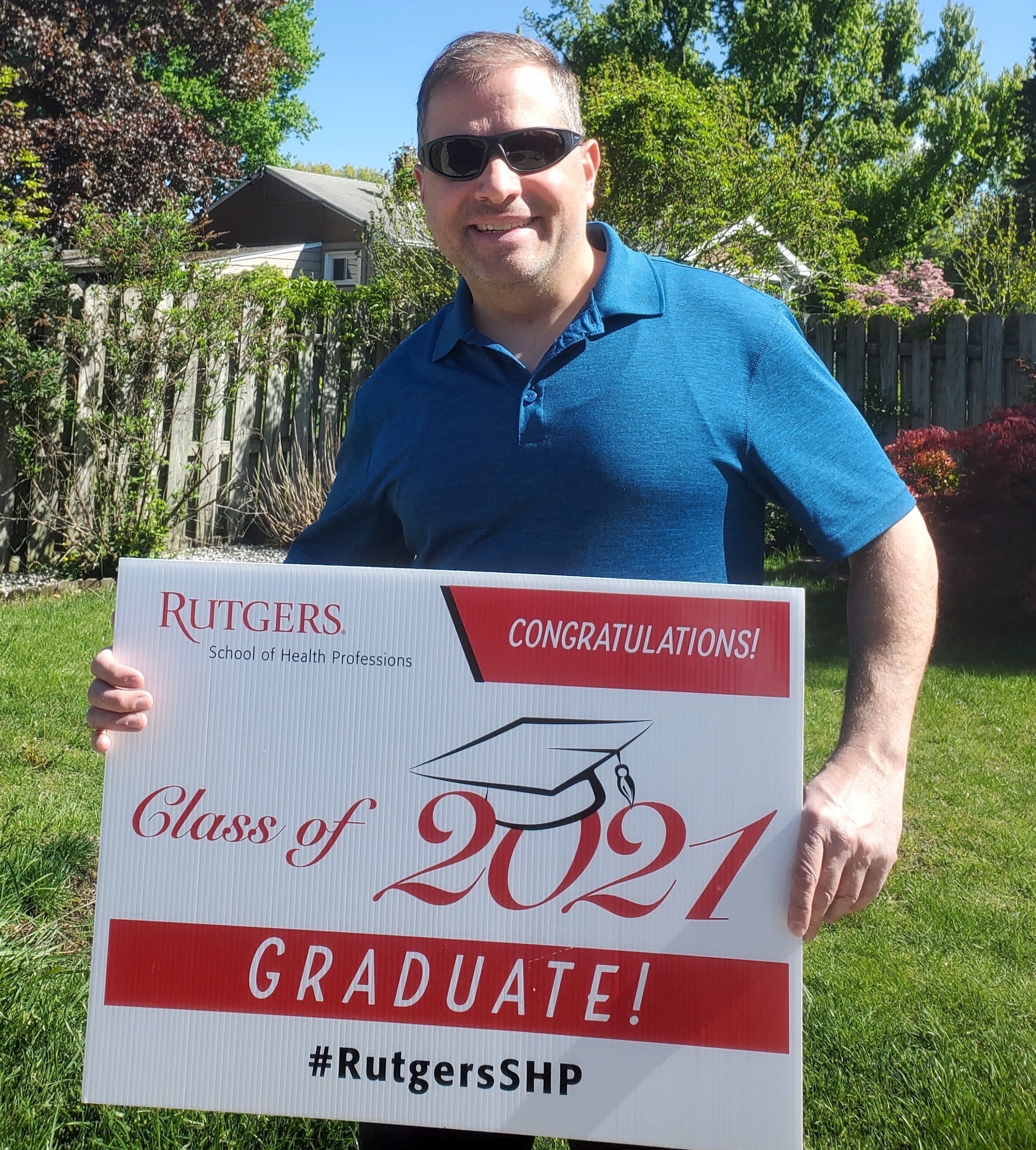 His interest in performing research in individuals with spinal cord injury was sparked as an undergraduate student while working with a 65-year-old man who was paralyzed and whose medical insurance had been exhausted. As an athletic trainer, Chris Cirnigliaro volunteered to implement a physician-prescribed exercise regimen three times a week for three years.
"Working with this older man made me aware of the devastating effects of spinal cord injury on the entire body and how great it would be to one day work in this field to be able to help persons with this condition," he said.
Later, working as a senior research coordinator for the James J. Peters Veterans Affairs Medical Center satellite research laboratory located at the Kessler Institute for Rehabilitation in West Orange, he knew a doctoral degree was required if he wanted to obtain grant support and advance his research career to improve the lives of those with spinal cord injuries.
In 2012, Cirnigliaro enrolled in the Rutgers School of Health Professions Ph.D. program in the Department of Rehabilitation and Movement Science. He will graduate this month.
While in the program, Cirnigliaro was lead author on four highly relevant studies done in collaboration with other Rutgers researchers that addressed questions related to bone health of those with spinal cord injuries. Now, with his degree in hand, his is applying to the U.S. Department of Veterans Affairs for a highly competitive Career Development Award to investigate the effect of two physical interventions – exoskeletal-assisted walking and transcutaneous spinal cord stimulation, on bone mass and strength in persons with spinal cord injuries.
"Without that doctoral degree, it just wasn't possible to move forward," he said.
His mentor, Associate Professor Mary Jane Myslinski, Ph.D., said that Cirnigliaro was tenacious in accomplishing his research activities, while keeping his academic performance at a high level.
"Chris stood out for his ability to juggle work, school, family life, and adversity with a smile and a positive attitude," she said.
While a student in the Ph.D. program, he managed the satellite facility of the National Center for the Medical Consequence of Spinal Cord Injury at Kessler.
As senior clinical research coordinator and clinical exercise physiologist, he said that he applied the knowledge gained in his doctoral program with his technical skills to successfully accomplish the original work for his doctoral thesis.
The research in his dissertation focused on studying knee bones in persons with spinal cord injuries to determine the degree of bone loss. He also investigated the progression of bone loss over decades in those with spinal cord injuries, demonstrating that progressive bone loss continues into the second decade after a traumatic spinal cord injury. This novel finding could change treatment approaches, because if leg bone loss can be prevented even after relatively long periods of time after initial spinal cord injury, interventions may reduce the risk of fracture.
Kessler Foundation has been one of the first research centers to test robotic exoskeleton suits with powered hip and knee motion to allow people with spinal cord injury to stand upright, walk, turn, and climb stairs.
Yet, without sufficiently strong bones, people who are paralyzed will not be able to safely use these robotic devices for walking, and their ability to participate in future clinical trials with these devices or use them at home may be jeopardized, said Cirnigliaro.
"There are clinical trials that can help people walk, but if you have fragile bones in your legs, you won't be able to participate," he said. "Being excluded from a study protocol using an exoskeletal device for walking happens more times than I can tell you."
A Gulf War veteran, he serves as a consortium panel member developing clinical practice guidelines to improve bone health in veterans with spinal cord injury, sponsored by the Paralyzed Veterans of America.
He looks forward to using his newly acquired knowledge and sharpened investigative skills to add to the body of knowledge in the field of spinal cord injury medicine, where the holy grail for researchers is to find a safe way for people with paralysis to walk again.
"I one-hundred percent wouldn't consider doing anything else but research to improve the health and quality of life of persons with spinal cord injuries. You become passionate about helping people who are paralyzed to live better lives, as well as fascinated by the science and physiology of what happens to the body after spinal cord injury," he said.