Class of 2020: Alex Olan, DPT
Alex Olan Both Leads and Serves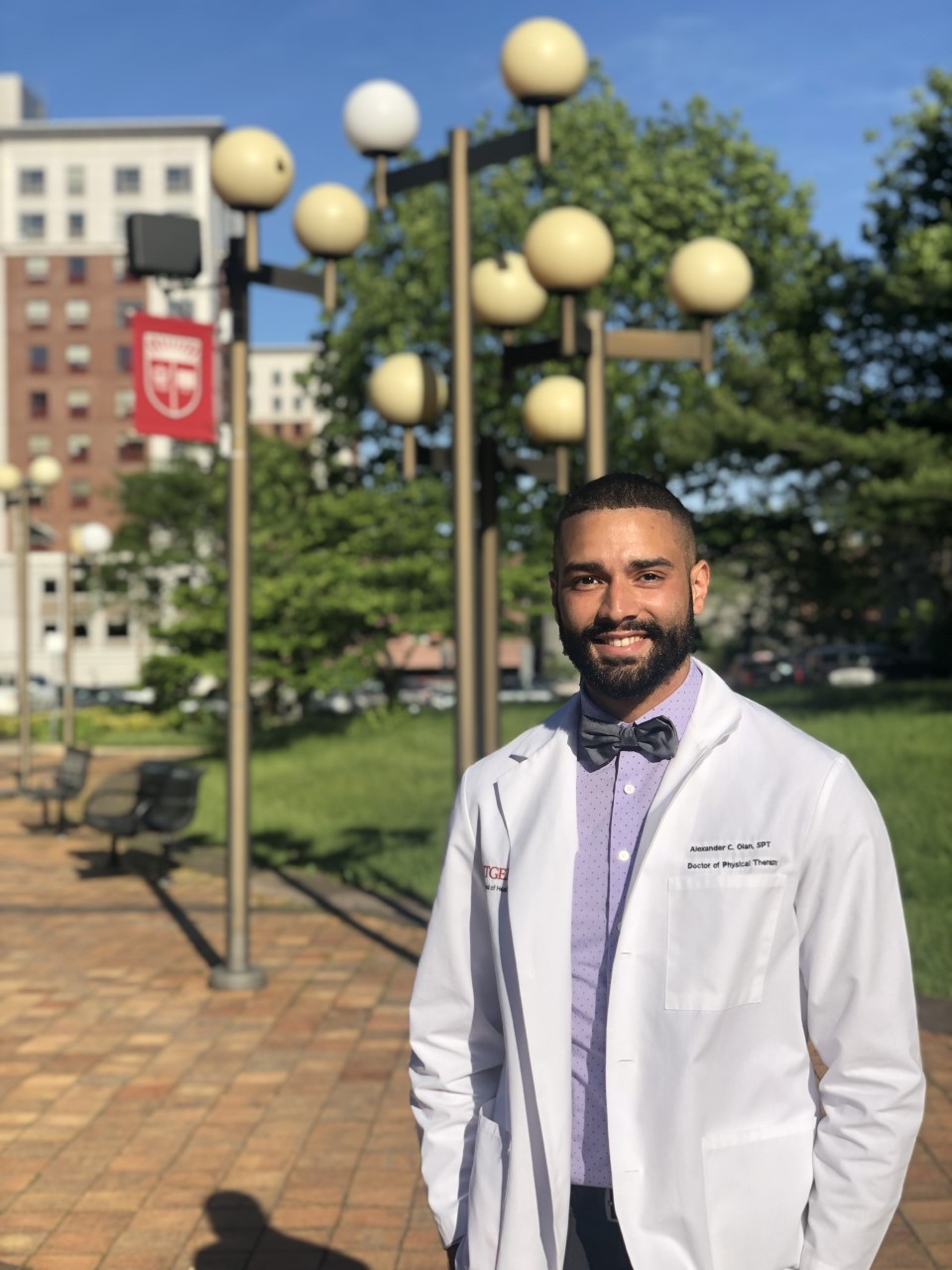 As a Rutgers undergraduate, Alex Olan volunteered for a health care-related service project in Honduras, and the next two times, he led service trips to Panama and Nicaragua.
It was no surprise that he jumped to volunteer for trip to the Dominican Republic as a graduate student in the Doctor of Physical Therapy program, where he and three other DPT students spent a winter break helping patients in a rural village manage pain and doing construction on a sustainable, hurricane-resilient home.
Throughout his post-secondary education, he has seized opportunities to get involved. As the class president, he worked to get the school's PT club recognized as an official organization so it could receive funding. He gave the PT North's program its first North's formal dance.
"He not only took a leadership role the entire three years he was here, but he excelled academically," said Nancy R. Kirsch, program director.
Alex, who is bilingual in Spanish and English, had originally set out to be a physician. As an undergraduate at Rutgers-New Brunswick, he was majoring in genetics and Spanish.
In a moment of serendipity, his path changed. As part of a program to encourage diversity in the medical profession, he was at Robert Wood Johnson University Hospital to shadow a physician.
"Funnily enough, they ran out of physicians for me to shadow," he said.
Instead, he was assigned to follow a physical therapist at another hospital, which he said, "actually, bummed me out."
"After my first day there, I knew that is what I wanted to do," Alex said.
He took a year's break and applied to Rutgers' DPT program, where has had clinical rotations in rehabilitation facilities, acute care wards, and worked with children in schools.
He liked the different experiences. In rehabilitation, he worked with a patient who had lost a limb in a motor vehicle accident. At the schools, he learned pediatrics. In acute care, he worked on discharge plans, helping to determine if a patient – whether someone who just had knee surgery or someone with a head injury – is independent enough to go home, or to a rehab.
Like other graduates of 2020, Alex is waiting to see what happens with the job market as result of the viral pandemic. His licensing boards were rescheduled three times, and he finally took them on a day's notice in a room with four other students.
Wherever his career takes him, he plans to keep volunteering and doing service as a professional physical therapist.
"If I don't find an opportunity, I'll make one myself," he said.