Free Community Participatory Physical Therapy Clinic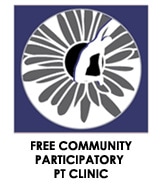 Rutgers PT students improve the quality of life to an underserved population through a pro-bono clinic held every Tuesday in Newark.
Physical Therapy can help improve or restore the mobility you need to move forward with your life. If you are looking for a possible alternative to surgery and/or pain medication, consider a physical therapist.
Physical Therapy Can Help With:
Arthritis, Osteoporosis
Back Pain, Shoulder Pain, Knee Pain
Overuse Injuries, Work Related Injuries
Stroke, Diabetes
Sprains, strains, and fractures
Please join us on Tuedays for the Community Participatory PT Clinic at:
3-6 p.m. most Tuesdays
65 Bergen Street, Lab 443
Rutgers SHP Newark Campus
Phone 973-972-8511
Summary
This Community Participatory Physical Therapy Clinic (CPPTC) has served the community of Newark since 2011. It is supervised by a licensed physical therapist and student volunteers from the entry-level Doctoral Program in Physical Therapy at Rutgers SHP. The clinic's goals and objectives are developed in conjunction with the community's self- identified health needs and goals and within the scope of physical therapy practice.
Purpose
The Community Participatory PT Clinic serves the community's health needs that are within the scope of physical therapy practice. Physical therapy, health and wellness education and referral to community resources is provided to patients, clients and participants. Learn more about the clinic in a Rutgers Today article featuring Ulises Mantilla, who learned to walk without his cane after suffering a stroke.
                Contact:
Sue Paparella-Pitzel, PT, DPT, MS
Associate Professor
Doctoral Program in Physical Therapy
Rutgers SHP
65 Bergen St., SSB710, Newark, NJ 07107
Phone: 973 972-8511
E-mail:  paparesu@shp.rutgers.edu