For Two Best Friends, A Dream Comes True
They grew up best friends in a small, rural Virginia town with the same big dream – to play in the Super Bowl.
One went on to a powerhouse football university and into the NFL. The other ended up at a smaller school and changed his dream to one of pursuing a career in medicine.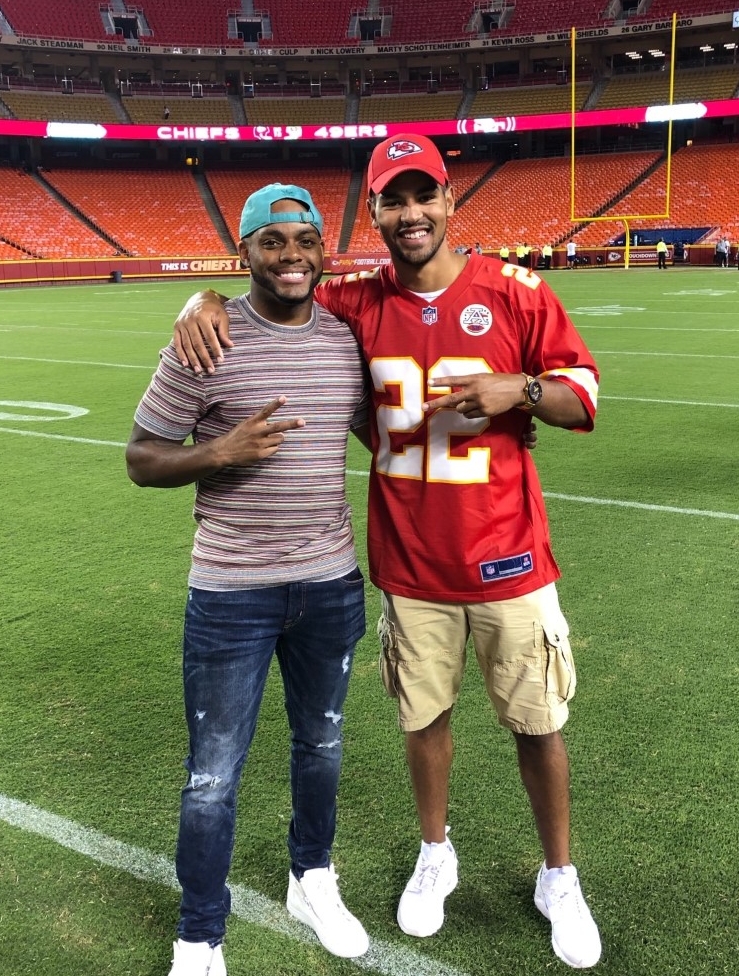 But they stayed connected and cheered each other on. And when the football player achieved his Super Bowl dream, his best friend was there to watch. Juan Thornill of the Kansas City Chiefs sent Donavan Montague, a student in the Rutgers School of Health Professions Physician Assistant (PA) program, a ticket to the big game – Super Bowl LV in Tampa.
"For him to make it, and to play in the SuperBowl, was pretty remarkable. And he didn't want to me miss it, and I didn't want to miss it for the world,'' said Montague, who is in his first year in the PA program.
As much as he wanted to go, it seemed a long shot, given the demands of the rigorous program.
"I looked at my schedule and what I would have to miss. And I knew I would have to quarantine when I came back. Before I even proposed it, I knew there would have to be a lot of work done not just by me, but the faculty and I really was expecting not to be able to go," he said.
He would miss several on-campus activities, including a pulmonary physical examination practice session and an exam. But the faculty worked with him, allowing him to demonstrate his proficiency in pulmonary diagnosis through remote practice sessions on "patients" and rescheduling an exam and quiz, while also giving him the responsibility of catching up on skill work that he missed.
"We understood that he and Juan had been very supportive of each other to get where they are today – one in the Super Bowl and one in a highly respected PA program. In this past year of pandemic-related adaptation and stress, it was wonderful to be able to help his plans come to fruition," said Thea Cogan-Drew, PA faculty member.
Montague said Associate Professor Claire O'Connell had some further advice: Be safe, wear your mask,  social distance and then when you get back, quarantine.
Montague went to the Super Bowl with his fiancé, whom he had met through Thornhill, and watched from seats on the 30-yard line.  They couldn't meet in person due to quarantine restrictions, but he said the sight of his friend on the Super Bowl field brought tears to his eyes.
The pair played high school football together in Altavista, Va., both on defense, with Thornhill heading off to University of Virginia. Montague said he knew his dream of a football career was over when he went to a smaller Division 2 school, University of Virginia College at Wise, where he became the school's first athlete to twice win All Academic-All District honors.
"At the Division Two level, most people are realistic enough to know that it's not very likely to make it to the NFL, so you've got to plan for your life in other ways. For me, that was the medical field. I always enjoyed the sciences – chemistry, biology, anatomy, and was trying to find a career path where I could help who needed it the most," he said.
A medical mission trip to Belize introduced him to a physician assistant and he decided that was what he wanted to do. He said the path to be a PA would get him into practice sooner than medical school and he would be able to provide a high level of care. He wants to practice in an underserved community.
"I have no idea what I will specialize in but I'm keeping my eyes open," he said.
He believes the opportunity to see his friend in the Super Bowl was a once in a lifetime experience and is grateful to have been able to go.
"He worked so hard to get where he is and I'm proud of him," said Montague.