Class of 2020: Dr. Nalin Ranasinghe, MD, B.S. in Cardiovascular Sonography
M.D. Takes Cardiovascular Sonography to Improve Patient Care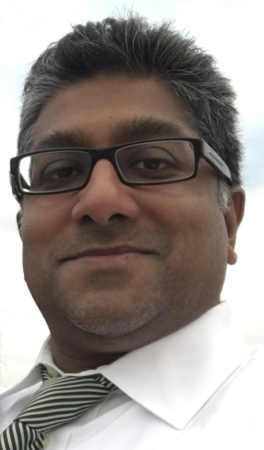 When emergency room physician Dr. Nalin Ranasinghe applied to the cardiovascular sonography program, the program director was puzzled: did the medical doctor understand it was geared toward undergraduates?
He did, and still wanted to enroll in the 15-month program.
Working in a rural hospital, Dr. Ranasinghe wanted to be formally trained to conduct an ultrasound. He also wanted to learn more about the science of the important diagnostic tool, and be better prepared to provide point-of-care testing.
Continuing to work full-time between two hospitals, one in upstate New York, and the Veterans Administration in East Orange, he was committed to completing the full-time program at the Bergen Building in Newark.
"It's one thing to understand anatomy from a clinical sense, but another when you are looking at ultrasound images. If you don't have that skill, you need someone to instruct you, which helps you manage the patient once the diagnosis is made," said Dr. Ranasinghe. "This program has given me insight into how to make the diagnosis itself."
"All of the emergency room doctors are doing ultrasounds, especially in smaller hospitals. I wanted to gain more knowledge and formal training, and I think it's paid off."
He remembers the program director, Dr. Stanley Ort, being perplexed when he decided to apply. "It was a funny conversation," he said. Dr. Ort said he was impressed by how Dr. Ranasinghe managed to fulfill his requirements, scheduling his emergency room shifts around the class schedule.
"He is a humble individual and acknowledged the expertise of program and clinical faculty at all times," Dr. Ort said.   "I was impressed by his genuine interest in how sonography could be used to improve his care of patients."
Dr. Ranasinghe, who earned his medical degree in 2007, said that Dr. Ort and the other program faculty provided "tremendous insight" in the ultrasound process and technique, and he has found the knowledge he gained helpful in the emergency department.
"Patients often come into the ER with concerns for a deep vein clot of an extremity and it's an opportunity to be able to evaluate the particular patient and be able to tell them right way that they have a thrombosis or not," said Dr. Ranasinghe, who lives in Warren with his wife and 4-year old daughter.
"This program has definitely helped me and I give all the credit to the program director, Dr. Ort, professor Rene Rapuanre, professor Garth Nanni, along with Rutgers University which is an amazing institution are dedicated to teaching and to my extremely talented students who were my classmates and who challenged each other."