Scholarship Winner Advocates for Greater Role for PAs in Health Care
Second-year Physician Assistant student Molly deButts not only wants to practice medicine, she wants to further the relatively young profession.
She has organized fellow students to lobby for Medicare to ease restrictions requiring supervising practitioners to re-document work by PA students during rotations – something not required of medical students. The measure was ultimately approved. She is currently planning to bring Rep. Frank Pallone to Rutgers to discuss national initiatives that impact the profession.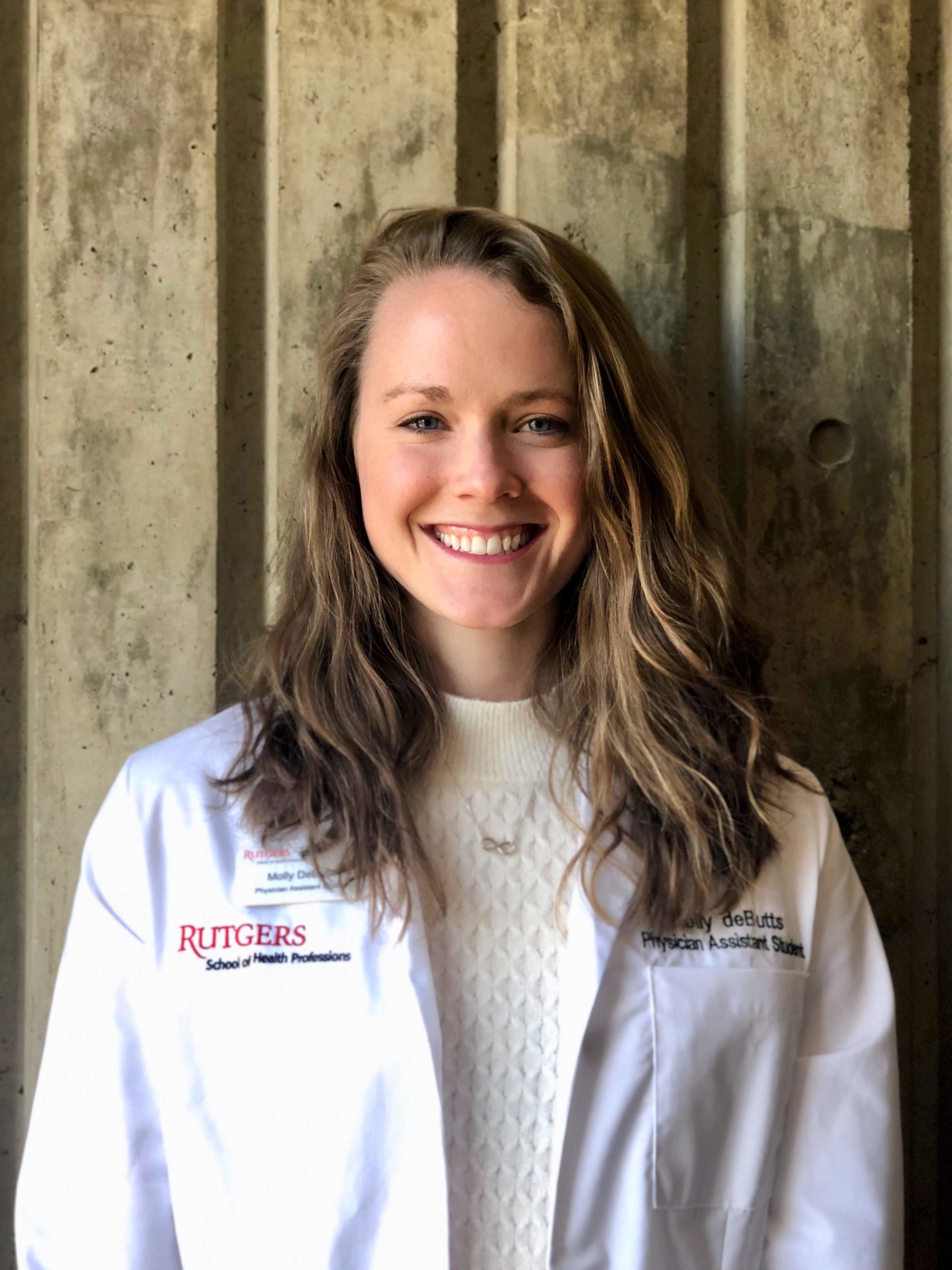 It's no surprise that Rutgers School of Health Professions student would not be content to sit on the sidelines as the world grapples with the COVID-19 pandemic.
"There should be ways to help. We all entered the profession to help people and to feel helpless is difficult," said Molly, whose clinical rotation ended a week early due to the COVID-19 restrictions.
She has lobbied NJ senators and congressman to ensure personal protective equipment for PAs, and to give them the ability to order home healthcare for patients, freeing up hospital beds. And she has asked all of her classmates to contact their congressional representatives to ask them to ensure PA students are included in COVID-19 relief efforts such as a limited suspension of student loan payments and increased financial aid.
Her leadership, community service, academic accomplishments, and health policy advocacy all served to to win her a 2020 Edward J. Ill Excellence in Medicine scholarship.
Molly sees her role as not only providing patient care, but being a steward of the profession. The PA profession got its start in 1965, and was largely dependent on physician oversight.
"We are stepping into a blossoming profession, but it is our responsibility to further the progress that has been made over the past 50-plus years," she said in a personal statement submitted as part of the Edward J. Ill scholarship application.
Molly graduated from Princeton University with a degree in Psychology and a minor in Neuroscience.  She had been a swimmer in high school and a cross-country runner in college. After Princeton, she joined a professional triathlon development team training for the Olympics in the US and in Spain. But after a few spills on her bike, she suffered injuries that led her to leave the sport.
That experience contributed to her decision to go into medicine, and she said she wants to mentor pre-med undergraduate students to consider a career as a PA.
"I feel lucky to have found this path but fear there are many brilliant students who opt out of the healthcare field after deciding against medical school. I would love to highlight the PA profession to these fantastic students and future leaders," she said.
Earlier this year, Molly was one of just 14 students nationwide to be chosen a Physician Assistant Education Association (PAEA) Student Health Policy Fellow – the first Rutgers student to achieve this honor. She spent four days in Washington, D.C. meeting with national policy health leaders.
"Molly does not shy away from challenging situations, and she possesses a rare combination of intelligence and interpersonal skills that will allow her to excel in medicine and leadership. She has displayed an unwavering commitment to service and will certainly have a positive impact in her community and within our profession," said Ryan White, PA assistant professor, in his nominating letter.