Representing Rutgers at National Student Leadership Forum
"I felt honored and empowered to represent Rutgers University."

By Cynthia Orozco
Rutgers SHP Class of 2020
If I had to choose one word to describe my experience as the Rutgers University representative to the 2019 National Student Leadership Forum, it would be awakening.
The experience from start to end was absolutely life-changing. Since returning from this forum in Washington, D.C., I feel very inspired and motivated to help foster positive change within my community. I learned so much from each person I interacted with, and I have been spreading the stories and lessons I received there.
For the better part of the weekend, we worked in small groups led by two kind and wonderful facilitators. I had the chance to really get to know the other young women in my small group, all very different, all with a story. It was during this time that I realized how we can relate to complete strangers in more than one way, despite differences of culture, race, ethnicity, religion, and or upbringing. Regardless of our backgrounds, we shared similar experiences – for example, having a close relative with a mood disorder, being raised by a single parent, struggling with certain emotions or battling the feeling of not making our parents proud. The walls came down as we all connected on a deeper level.
I listened to the stories and advice of important people within our nation, from Tamika Tremaglio, managing principal director at Deloitte, to various members of Congress. One of the most impactful stories for me, was that of Corey Humphress, who helped in the launch of Uber Eats. She grew up in what she described as a "hillbilly culture," and was at times ashamed of her family. She talked about a brutal divorce, and moving to a new city with few resources, starting a new life, making mistakes and learning from them. She learned and is still learning how to overcome the feeling of not belonging, not being enough, and knowing when to ask for help. She told her story in a manner that was both profound and, at times I felt as though directed towards me.
I am certain we can all relate to Corey Humphress on our journeys through college, our transitions into the workforce, and the life events which mold us into the persons we are destined to be. I learned that three ways to cultivate growth are through courage, self-reflection, and new relationships.
I also learned: if you can be anything, be kind, and that the greatest and most influential leaders are those who serve others.
I felt honored and empowered to represent Rutgers University, as I am a reflection of the amazing students and faculty and staff; I wouldn't be who I am without the guidance and assistance of many of them. I would like to thank Rutgers and Dean Mahon for this wonderful experience. The NSLF was an experience I will never forget.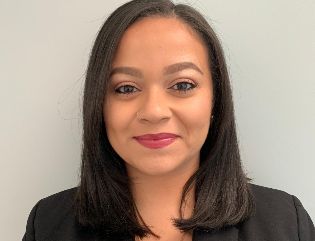 Cynthia Orozco is a student in the B.S. Health Information Management program and a participant in the Educational Opportunity Fund. She was Rutgers' only representative to the conference, and was chosen based on her high grades and her activities in the HIM professional association, and leadership in several academic honor societies.