Class of 2020: Adam Coughlan, DPT
DPT Grad Finds Niche During Rotation in Long-Term Care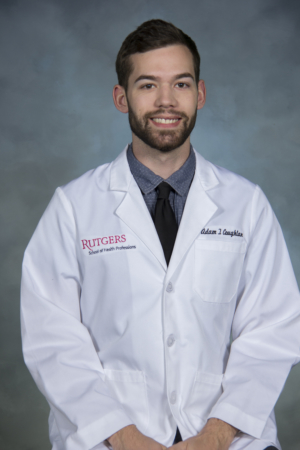 At the Helen Hayes Rehabilitation Center in New York, people who lost limbs, suffered brain trauma or had catastrophic spinal cord injuries can spend months working to reclaim their mobility.
Adam Coughlan, a member of the Rutgers School of Health Profession's Class of 2020, found his calling there when he did his physical therapy clinical rotation.
"Patients who are transferred to this setting are at their most vulnerable. During the time they are here, you can see a lot of changes. They have to be motivated and inspired to move beyond their pain. Being that motivator is the best part of that setting for me," Adam said.
He always knew he wanted to work in the field of health care. Initially a pre-med major, he switched to dietetics, but while he had a keen interest in nutrition, he didn't have a passion for it. He wanted to do something more hands-on, and that turned out to be physical therapy.
Adam said he has always found himself in the role of being the person others turn to when they needed comforting, and he hoped to use those skills in his profession.
Working in long-term rehabilitation gave him that opportunity.
"People in the rehabilitation center have extremely debilitating injuries and can be there for up to three months. You spend a lot of time working with them and you develop a relationship with them. That's my favorite part," said Adam.
Adam is also a skilled musician, and said music is his healing medicine "when I'm not feeling OK."
He sang with the Philadelphia Boys Choir as a child, and was part of an A Capella group as an undergraduate at Rutgers-New Brunswick.
His vocal talent helped to win him the honor of being the Class of 2020 singer of the national anthem at convocation. While the pandemic moved the ceremony online, a recording of Adam singing the Star-Spangled Banner will be played.
Adam doesn't yet have a job lined up – his board exams have been postponed several times due to the COVID-19 pandemic, but he is confident that he will find employment in the setting he desires once restrictions are lifted.